Healthy Instant Pot Recipes
This page contains all of the Instant Pot recipes on my website! You'll find everything from soups and stews to pastas, rice dishes, curries, mac and cheese, vegetarian options and how to cook different types of meat in your pressure cooker. Most of the recipes are dump and go meals but some require some additional preparation or use a combination of saute mode and pressure cooking. Keep reading to discover some of the best Instant Pot recipes on the internet!
Access my free meal prep challenge!
Access my free meal prep challenge & bonus resources.
Over five printable PDF downloads to help you stay on track with your health & fitness goals like a weekly meal planner, printable shopping list, and more will be sent during the challenge!
Where to start with using your instant pot
The number one thing to know with the Instant Pot is that oil/butter needs to go in the bottom of the pot - it should be the first thing you add otherwise you risk getting the burn message. You should also avoid stirring ingredients once added - they will cook up once under pressure and you can stir once everything is finished. These are the best ways to avoid the burn message.
Because everything cooks so quickly under pressure, the Instant Pot is perfect for meat, rice, pasta and dried legumes. It's also great for hardier veggies such as carrots and mushrooms. However, you want to be careful  with tender veggies such as broccoli and zucchini as those will overcook under pressure. The best way around this is to add those veggies after everything has cooked.
Two main modes you'll use are saute mode & high pressure. When using saute mode, you'll saute meat & veggies (usually before/after pressure cooking) & you don't need a certain amount of liquid. However, to bring the pot to pressure, you'll need at least 1 cup of liquid. Using a combination of broth, soy sauce, diced tomatoes, tomato sauce or other condiments ensures your food will cook through.
The ultimate Instant Pot recipe round up
If you're looking for healthy recipes that are ready super quickly and are big on flavor, I've got you covered with the ultimate Instant Pot guide! Almost all of these recipes cook up within 30 minutes so they're perfect for busy weeknights. This is the best place to start if you're looking for easy ways to start cooking with your Instant Pot!
Everything you need for your instant pot
My most popular Instant Pot Recipes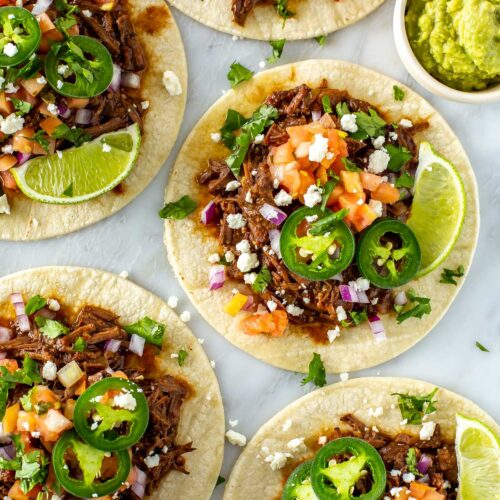 These Shredded Beef Tacos are so tender and delicious! Make them in the slow cooker, Instant Pot or on the stove for an easy weeknight
These Healthy One Pot Pastas will help you get a delicious meal on the table fast – all without leaving a pile of dishes to