These high protein recipes are perfect for those looking to get more protein to support their fitness goals. You'll find lots of tacos, stir fries, salads and skillet dinners along with protein pancakes, shakes, bites and bars on this page. Most are also low carb or high in fibre to keep you feeling fuller for longer so you can stay on track with a healthy diet and curb your cravings for junk food. Explore all of my high protein favorites!
Access my free meal prep challenge!
Access my free meal prep challenge & bonus resources.
Over five printable PDF downloads to help you stay on track with your health & fitness goals like a weekly meal planner, printable shopping list, and more will be sent during the challenge!
Make high protein meals using these tools
My most popular high protein Recipes
My Healthy Homemade Beef Jersey is an easy and cheap snack recipe – all you need to do is bake it in the oven on
These Coconut Mango Chicken Meal Prep Bowls with corn salsa, avocado and mango marinade are perfect for your weekly lunches! Ingredients and substitutions Chicken breast
This 5-Ingredient Egg White Frittata is the perfect high protein meal prep breakfast you can make ahead, with just 181 calories per serving! Ingredients and
These copycat PF Chang's Chicken Lettuce Wraps are made with ground chicken, mushrooms and water chestnuts – they're healthy & low carb! PF Chang's lettuce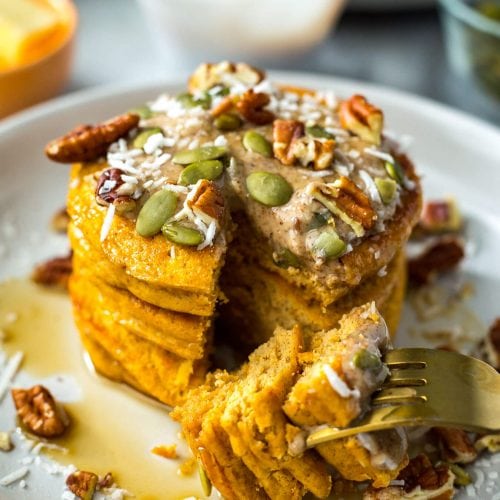 These 5-Ingredient Pumpkin Protein Pancakes are a healthy and delicious breakfast idea that can be frozen and reheated in the toaster. Ingredients and substitutions Butter
This One Pot Butternut Squash Chicken Curry with coconut milk, veggies, chickpeas and rice is protein-filled comfort food at its best! Ingredients and substitutions Olive oil
This Sausage Peppers and Onions Skillet is an easy one-pan weeknight dinner made with turkey sausage, bell peppers, onions and pasta sauce. Ingredients and substitutions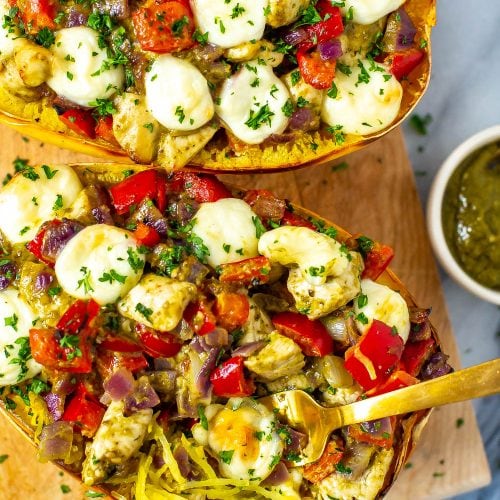 This cheesy, loaded Chicken Pesto Spaghetti Squash is a healthy low-carb and high protein dinner the whole family will love! Ingredients in pesto spaghetti squash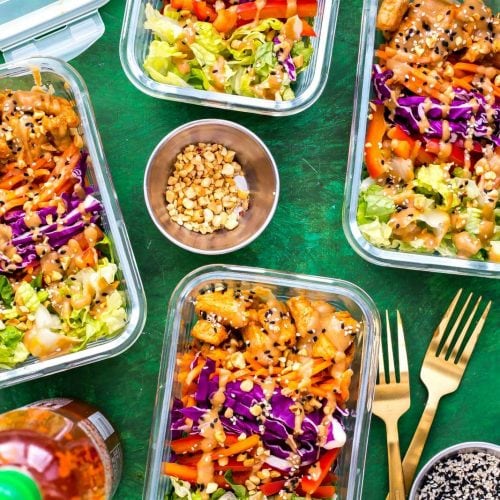 These Peanut Chicken Meal Prep Bowls are a healthy low-carb lunch idea full of colourful veggies, sautéed chicken and yummy peanut sauce. Ingredients and substitutions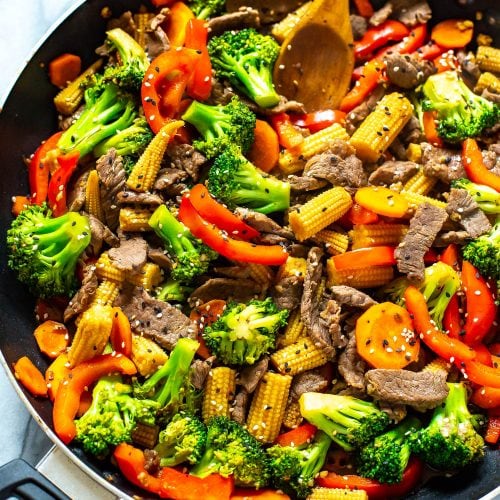 This is the EASIEST Beef Stir Fry recipe with a 2-ingredient stir fry sauce. You likely already have all the ingredients in your pantry!
These Shredded Chicken Recipes are anything but boring with five delicious flavour options that are all great for meal prep. How to make shredded chicken
A Taco Bell Power Bowl is the perfect meal prep idea and is a healthier Taco Bell copycat recipe you can easily make at home