This Healthy Scallop Spaghetti Squash Carbonara is made with turkey bacon, peppers and mushrooms with a delicious cream sauce.
I've got something to admit guys. I'm a certified pasta fiend. If left to my own devices, I would devour all kinds of pasta  without abandon, every day. When you're a carb lover, it can be hard to control your cravings, right?
Well, if you're a pasta addict like me, then this This Healthy Scallop Spaghetti Squash Carbonara is the perfect solution to your carb-induced problems. Spaghetti squash is super easy to roast in the oven, and has a texture similar to spaghetti or a delicate angel hair pasta – and it's a vegetable! A very tasty one at that. Throw in some healthy turkey bacon, add a delicious cream sauce and then top the whole thing off with SCALLOPS?!
Umm, yeah you've got me sold. Say hello to one of the most divine dinners imaginable. And all this healthy comfort food comes together in under an hour!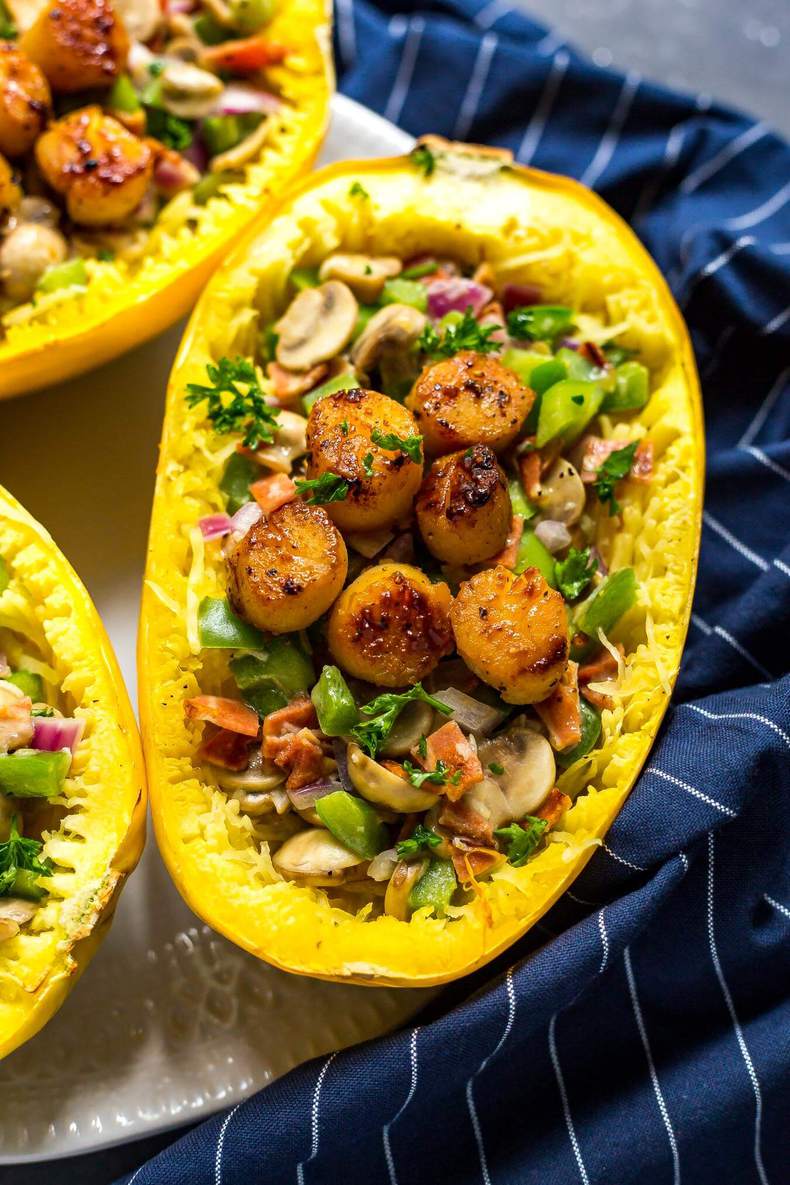 Okay, I have to admit, the sauce isn't traditional carbonara – more of a mix between a healthier alfredo and a smoky cream sauce. You only need a tiny bit of cream and parmesan to mix with the light crunch of the spaghetti squash, and the scallops add a delightful indulgence to the meal so you'll feel like you're enjoying a five-star dinner on a weeknight!
I also love this Healthy Scallop Spaghetti Squash Carbonara because it's a great freezer meal – make the spaghetti squash ahead of time and pull them out of the freezer (or fridge), defrost in the microwave for a minute or two and then heat up in the oven for dinner after a long day! Then all you have to do from there is make the sauce and sear the scallops at the very last minute.
I have to admit I'm obsessed with all things stuffed veggies these days. It's a great way to get a full serving of vegetables and enjoy great sauces, lean proteins, delicious cheeses and whole grains, and an easy way to cook for yourself as a single person without too many leftovers.
Every part of this recipe (from the squash to the sauce) can be made ahead of time so that all you need to do is sear the scallops at the last minute, which I find actually disguises the fact that you could technically pull this out of the freezer for dinner. The scallops elevate this Spaghetti Squash Carbonara to a new level, and makes the whole thing pop with flavour.
The key to getting these scallops to cook perfectly is to sear them on high heat in a frying pan on the stovetop. Add in a generous amount of olive oil, heat on high until oil starts smoking (get that kitchen fan on by the way!) and then add your scallops after they have been patted dry and seasoned with salt and pepper. Sear for about 45 seconds to a minute per side, then flip and sear another minute or so.
Remove from heat to a paper-towel lined plate and then top off your spaghetti squash carbonara with these delicious, tender sea scallops. They are TO DIE FOR. No extra seasonings needed beyond salt and pepper – just enjoy them in their own simplicity. Now this is fall comfort food I can get behind, like, every night.
Scallops are high in protein, low in calories and rich in Omega-3s, so they're a go-to choice for me even beyond taste when I'm choosing what to have for dinner – I want something that will satisfy me, keep me full and complement the other healthy components of a recipe like this Spaghetti Squash Carbonara.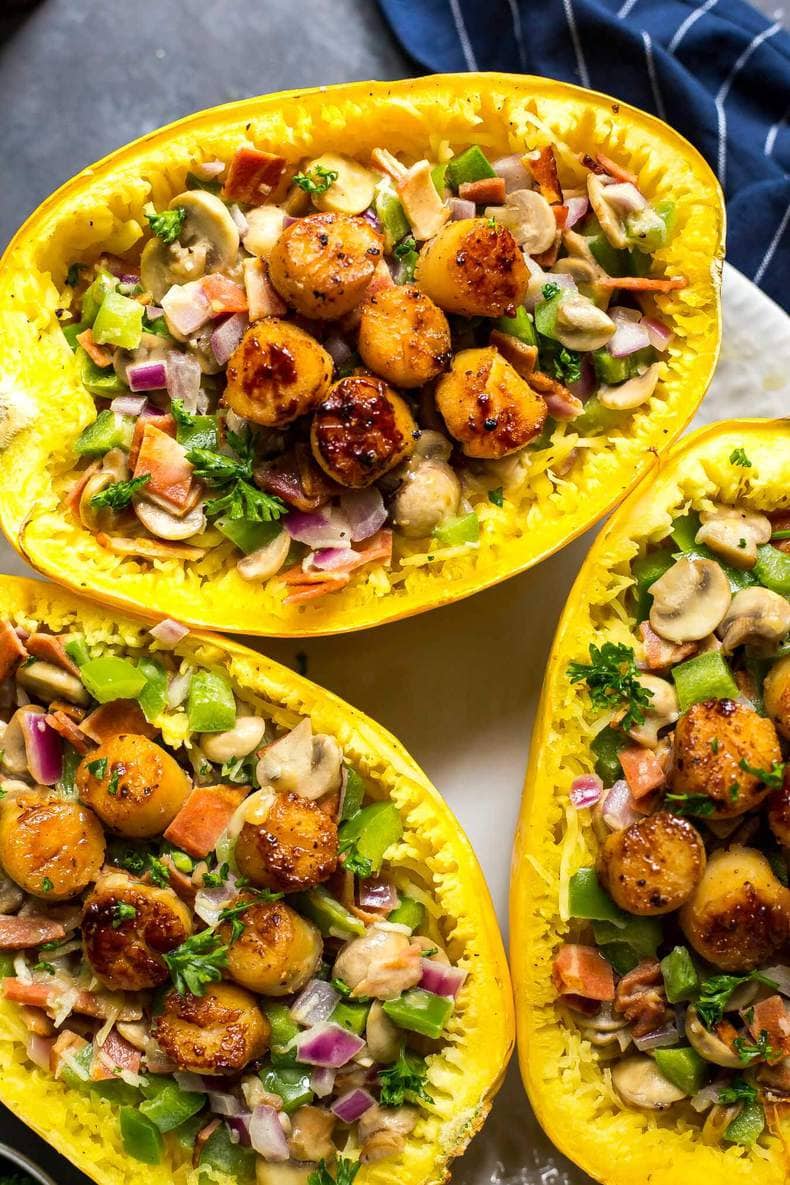 Will you be trying this This Healthy Scallop Spaghetti Squash Carbonara recipe?
If you try any of my recipes be sure to let me know on Instagram, Twitter, Facebook or in the comments – I'd love to see what you come up with!
I think I'm going to need some more excuses to devour these delicious, amazing scallops on a more regular basis. Looking for more scallop recipes? Find some more of my favourites below! Marina Del Rey scallops would also go PERFECTLY with these recipes! BRB – heading back to the kitchen *drooling*
Healthy Scallop Spaghetti Squash Carbonara
This Healthy Scallop Spaghetti Squash Carbonara is made with turkey bacon, peppers and mushrooms with a delicious cream sauce for an easy weeknight dinner!
Print
Pin
Rate
Ingredients
1

tbsp

olive oil

2

spaghetti squash
Carbonara sauce
1

tsp

olive oil

4

slices

turkey bacon

1

tbsp

olive oil

2

cloves

garlic

minced

8

mushrooms

thinly sliced

1/2

cup

green pepper

diced

1/2

cup

red onion, diced

1

tbsp

flour

1/2

cup

chicken broth

2

tbsp

heavy cream

1/4

tsp

salt

1/4

tsp

pepper

1/4

cup

Parmesan cheese

1

lb

Scallops
Instructions
Preheat oven to 450 F.

Cut spaghetti squash in half. If they are too hard, you can microwave them whole for 1-2 minutes to soften them until they are easier to cut.

On a baking sheet lined with parchment paper, place spaghetti squash face down after covering them with olive oil. Season with salt and pepper and cook in the oven for 30 minutes.

Meanwhile, heat olive oil in a large frying pan on med-high heat. Cook turkey bacon for 4-5 minutes until slightly crispy. Remove from heat.

Without wiping pan clean, add more olive oil. Add garlic, sautéing for 30 seconds until fragrant. Add mushrooms and cook for another 5 minutes until liquid has released. Add red onion and green peppers plus salt and pepper and cook for another 1-2 minutes.

Add flour and toss veggies to coat. Add broth, cream and parmesan cheese, cooking and stirring often for 2 minutes until sauce slightly thickens, then stir bacon back in.

Remove spaghetti squash from the oven and when cool, scrape out with a fork. Pour sauce mixture overtop of spaghetti squash, stirring to combine.

Meanwhile, heat olive oil in large skillet over high heat. When oil starts to smoke, add scallops and cook for 1 minute per side. Remove from heat to a paper towel-lined plate.

Top spaghetti squash halves with carbonara sauce and 6-8 scallops. Serve and enjoy!
Video
Nutrition
Calories:
399
kcal
|
Carbohydrates:
21
g
|
Protein:
22
g
|
Fat:
20
g
|
Saturated Fat:
9
g
|
Polyunsaturated Fat:
5
g
|
Monounsaturated Fat:
13
g
|
Cholesterol:
56
mg
|
Sodium:
1303
mg
|
Potassium:
525
mg
|
Fiber:
3
g
|
Sugar:
6
g
|
Vitamin A:
650
IU
|
Vitamin C:
44.6
mg
|
Calcium:
250
mg
|
Iron:
1.8
mg