This Grilled Chicken, Avocado & Ranch BLT Salad is perfect for lunch or dinner and made healthier thanks to turkey bacon and an easy mayo-free homemade ranch dressing!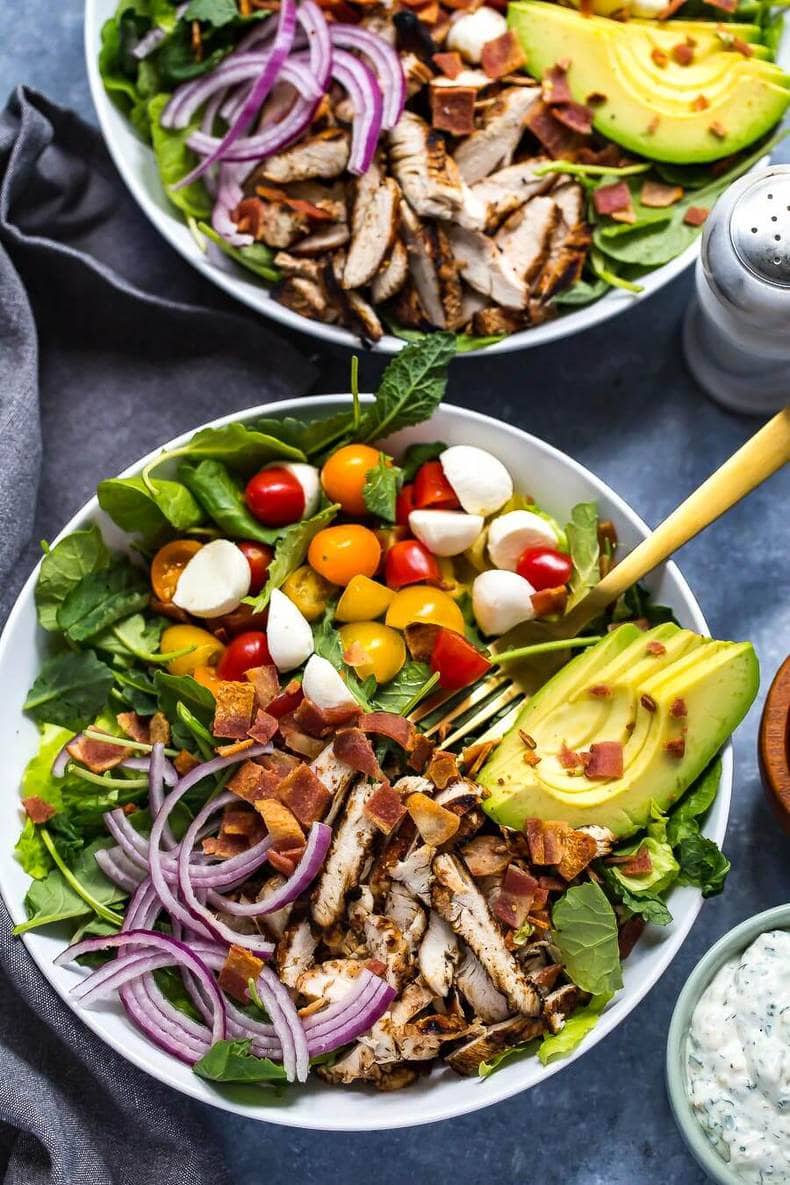 I'm not sure whether or not I should talk about the amazingness that is this salad or the homemade mayo-free ranch dressing first.
Maybe, possibly, both.
Because to me, one cannot exist without the other. Just like all other wonderful partnerships in life.
This Grilled Chicken, Avocado & Ranch BLT Salad is basically FILLED to the brim with all of my fave salad ingredients. This is the kind of salad that makes you feel as if you went to the salad bar at your local grocery store and just went to town with all the toppings you love. And the best part? It's not gonna cost you $15 for a little plastic container.
Or is it just me that spends that much on salad at the store?
Let's dive right in here.
We've got a grilled balsamic chicken (the same kind I used for this Balsamic Grilled Chicken & Arugula Salad), turkey bacon, heirloom cherry tomatoes, baby kale, romaine, bocconcini cheese, thin-sliced red onion and sliced avocado packing this salad full of vibrant, summery flavours.
Then the homemade ranch dressing.
Well, it comes together initially as more of a dip because I use sour cream instead of mayo to lessen the calorie count. But, add a little bit of water to your homemade ranch right before adding to this salad and you've got coverage in all the right places.
Drooling just thinking about it!
The key to a tasty ranch dressing is all in the herbs and spices.
Now this isn't your traditional buttermilk ranch – it's more of a garlicky, herby spin on everyone's favourite salad dressing. But this version is perfect as a dip (hello, summer potlucks and cut up veggies!) and it's a super low-fat, low-calorie version that is perfect for using in just about anything.
I used fresh chives from my mom's garden, along with some fresh curly parsley, fresh minced garlic cloves, a generous serving of fresh cracked black pepper, some lemon juice, salt and sour cream. Maybe a little bit of dried dill if you're really feeling adventurous. And BOOM! Done. This homemade ranch dressing holds in the fridge for up to a week so you can put it on everythaaaaannnng.
Only thing missing is some blended, pureed avocado so you can get in some more healthy fats (I did this with caesar dressing so it must be possible with ranch!)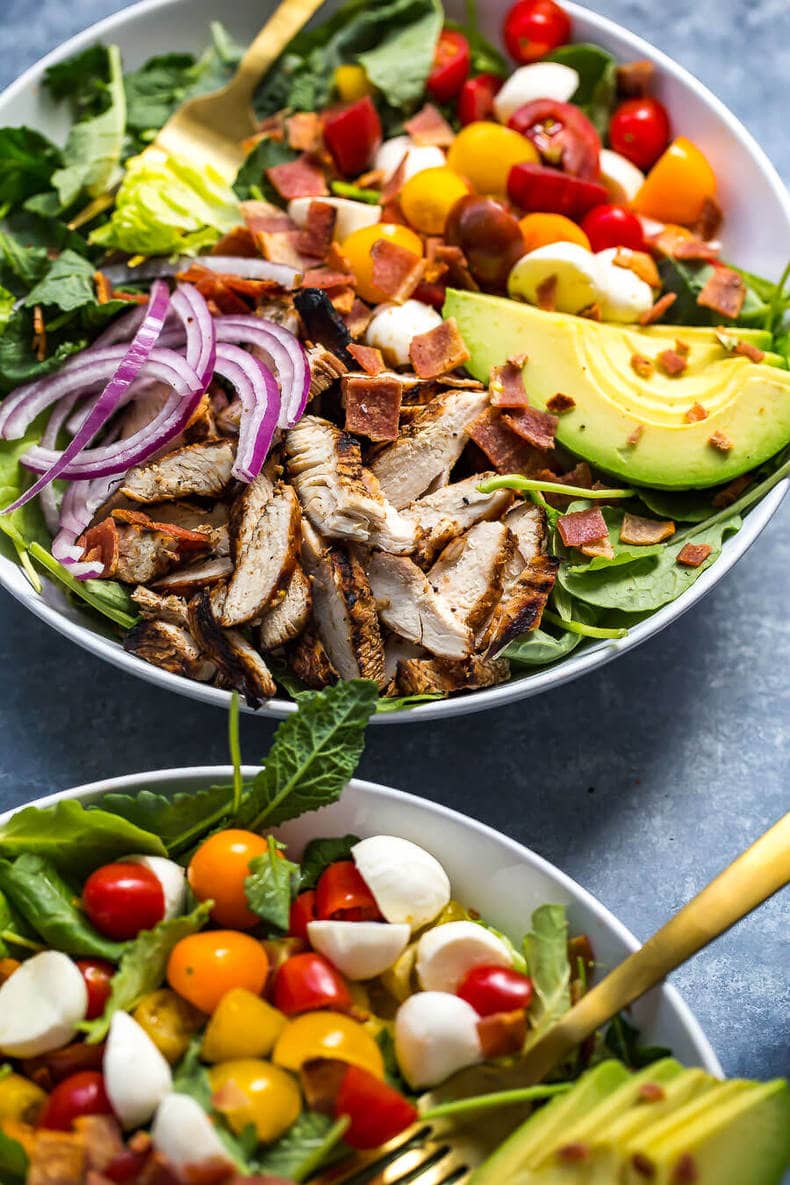 I have been on such a health and fitness kick lately that I've realized I start to really feel it if I haven't been eating well for a few days. I don't know if it's because I'm just used to eating so healthy or if it's because I'm actually getting old LOL.
Is it possible to have a mid-20s life crisis?
I'm seriously at the point where I'm so invested in what I'm eating and find myself hopping on the clean eating, whole foods diet thing as much as possible that when I have a weekend where I've overindulged I don't necessarily feel guilty so much as I feel a bit more sluggish than usual.
Why did I have to go and get myself used to eating such good food?
Well, what kombucha can't fix on a day you're feeling hungover, big ass salads like these all week long will not only cure your tiredness, but I'm convinced they'll cure your need for junk food.
Because when you eat healthy food that's also delicious, that's a win-win.
Say hello to those gains with healthy Grilled Chicken, Avocado & Ranch BLT Salad all day every day.
I promise I won't tell if you swap out the turkey bacon for regular bacon either…
Will you be making this Grilled Chicken, Avocado & Ranch BLT Salad? 
I know that I'm going to be making this recipe repeatedly throughout the year – it's just so simple and easy to customize. And I think I might have just fallen in love with ranch dressing again. But maybe next time I'll throw some avocado in there to get my healthy fat count in. I'm convinced you can never have too much avocado in your life!
If you try any of my recipes be sure to let me know on Instagram, Twitter, Facebook or in the comments – I'd love to see what you come up with!
Grilled Chicken, Avocado & Ranch BLT Salad
This Grilled Chicken, Avocado & Ranch BLT Salad is perfect for lunch or dinner and made healthier thanks to turkey bacon and an easy mayo-free homemade ranch dressing!
Print
Pin
Rate
Ingredients
4

chicken breasts

1

package

baby kale

1

head

Romaine lettuce

1

red onion, sliced

1

avocado, sliced

8

slices

turkey bacon

1

cup

bocconcini cheese, sliced in half

1

cup

heirloom cherry tomatoes, sliced in half
Homemade Ranch
1

cup

sour cream

2

tbsp

lemon juice

1/4

cup

chives, finely chopped

1/4

cup

fresh parsley, finely chopped

2

cloves

garlic minced

3/4

tsp

salt

3/4

tsp

pepper
Balsamic Chicken Marinade
2

tbsp

olive oil

2

tbsp

balsamic vinegar

1

tbsp

dijon mustard

1

tbsp

honey

1

tsp

salt
Instructions
Preheat BBQ to med-high heat. Slice chicken breasts in half lengthwise. Place in a large plastic bag with marinade ingredients and mix together well, letting sit for 10 min or so.

Meanwhile, add romaine and baby kale to big salad bowls or tupperware containers if you're meal prepping. Add 1/4 cup cherry tomatoes and bocconcini to each. Divide red onions and sliced avocado among each.

BBQ chicken for 4-5 min per side. Alternatively, chicken can be cooked in a 425 F degree oven for 15-20 minutes. Remove from BBQ/oven and set aside, then slice when cooled slightly.

Meanwhile, mix together ingredients for ranch dressing and cook turkey bacon (5-7 min on med-high heat, flipping occasionally) Initially, ranch will come together very thick like a dip. That's okay - when serving just add a bit of water til you get the consistency you want and toss with salad.

Add chicken to each salad, toss with dressing and serve! If meal prepping, add all ingredients to resealable containers and serve dressing in small containers on the side. Refrigerate up to 5 days.