These Green Goddess Potato Skins are the ultimate creative side dish, and a healthy twist on everyone's favourite appetizer served with a creamy avocado-herb sauce.
It's November and it's about to get so blah out.
Ugh, yeah, I know.
It's going to start getting dark at 4:30 every day, the wind is going to become cold and unforgiving, and there will likely be more grey days than sunny ones. BUT it's also going to be so much nicer to come home and cozy up on the couch after a long day, and sleeping in under a giant duvet on the weekends with unlimited TV time is going to be glorious.
So I guess you could say that I have sort of a love-hate relationship with November.
But you have to admit that it's confusing because we're at a stage where we're still celebrating the fall season but we're also transitioning to Christmas. I don't know about you but I personally wanna hold onto fall for as long as I still can.
In any case, as things around us start to get grey and dreary, now's a better time than ever to get some green in our lives! Whether it's a warming kale buddha bowl or a scrumptious grilled cheese, Green Goddess is constantly a theme I have going on in my life.
Green veggies are wholesome, renewing and so nutritious they make me feel as though I can eat all of my problems away. Yes, I'm saying that about eating my greens…
But I promise that these Green Goddess Potato Skins are really something else, and they'll have you craving Green Goddess sauce all week long!
I'm still new to the Hamilton food scene, but have discovered a farm to table restaurant on Locke Street called Bread Bar, and they feature a daily loaded fries special. When I went in the summer with an old friend, we decided to split an order of their daily special, and that is when I discovered this velvety, creamy and punchy Green Goddess dressing that they also feature on their signature pizzas. Needless to say, I was hooked, and that's when I decided I needed to make a Green Goddess dressing of my own!
And to my surprise, Bread Bar features their own Green Goddess dressing on their website (!!!), so I was excited to play around with it and come up with my own! Of course, my version is a little bit healthier with less mayo and I substitute an avocado to keep that creamy factor without all the added calories. I also used cilantro instead of tarragon, but you could really use any kind of fresh herbs here and I imagine it would work.
Let me just tell you that herbs are the best. You really don't need anything else than herbs and spices to transform a dish.
Add a few cracks of black pepper and some chili flakes for some spice and you've got yourself one kickin' sidedish.
Will you be making these Green Goddess Potato Skins? If you try any of my recipes be sure to let me know on Instagram, Twitter, Facebook or in the comments – I'd love to see what you come up with!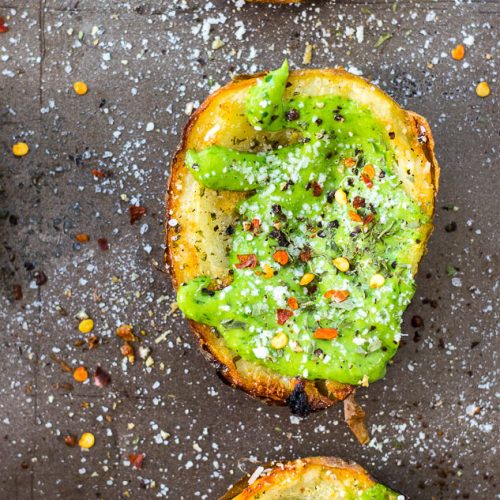 Ingredients
4

medium-sized Russet potatoes

2

tbsp

butter or olive oil

1/3

cup

parmesan cheese

Salt and pepper to taste

Red chili flakes

for garnish
Green Goddess Sauce
1

avocado

mashed

1/4

cup

mayo

1

green onion

chopped

2

tbsp

parsley

chopped

2

tbsp

cilantro

chopped

1

tsp

lemon juice

1/2

tsp

salt

1/2

tsp

pepper
Instructions
Preheat oven to 450 F. Bake potatoes for 40 min or until tender.

Meanwhile, blend all ingredients for Green Goddess sauce together in a Magic Bullet or food processor.

Remove potatoes from oven and let cool before scooping out pulp.

Switch oven to highest broiler setting and adjust oven wrack to highest setting.

Brush potato skins with either butter or olive oil, and sprinkle with parmesan cheese. Broil with the oven door open for 3-5 min until cheese is melted and skins are crispy. Be sure to watch them closely so they don't burn!

Remove potato skins from oven, then top with Green Goddess sauce. Sprinkle with salt, pepper and chili flakes, then serve!
Time to eat away the November blues!