My Favourite Healthy Meal Planning Shortcuts
If you're running short on time and don't have time to meal prep once a week, I've got your back! I'm talking about my Favourite Meal Planning Shortcuts to help you save on time and still eat healthy!
This post is sponsored by Findus Steam Delicious. Thanks for supporting the brands I love – they help keep my blog up and running!
Meal prep is something I make an effort to do weekly, but as with any hectic schedule sometimes you just fall short of your good intentions and don't have any meals planned out in advance. I definitely fall victim to this some weeks, and in the process I've found some handy ways to use up what you've got on hand in the fridge and in your pantry while spending minimally on new ingredients on your way home from work at the store.
You don't need a thorough plan to create healthy, easy lunches and dinners during the work week – I'll show you some simple shortcuts to help you stay on track!
Stock your freezer with healthy proteins
When I'm running short on time or inspiration, I often turn to my freezer to help me put together a filling, healthy meal. I love using healthy lean proteins like Findus' Steam Delicious fish to inject some fresh flavour into my meals and make it easy to have a home cooked hot meal in no time!
It only takes 4 minutes to prepare a healthy and super convenient fish dinner, and there are so many ways you can serve it depending on what type of cuisine you're craving. Their two flavours, Chive and Herb Butter, along with their Lemon Parsley Butter flavour, pair well with so many different ingredient combinations so it's easy to throw together a healthy meal without having to think too much about it.
European brand Findus just launched their range of fish products in Canadian stores – you can find them in Sobey's stores in Ontario and let's just say they have saved me from my hectic schedule more than a few times now!
If I'm really in a rush I throw the Steam Delicious cod loins in the microwave; they get steam cooked in just 4 minutes, and you can also cook them in the oven if you're putting together a sheet pan dinner. You can also rest easy knowing Findus products are 100% sustainably sourced!
I'll usually prepare a quick and easy sheet pan dinner with whatever veggies I have on hand or put together a quick burrito bowl with fresh veggies and salsa – those are my go-to combinations and tend to work beautifully with a variety of proteins.
Repurpose portions of leftovers into new meals
I will usually try and use up whatever vegetables I have already on hand in the fridge but sometimes you already have a ton of leftovers on hand from other dinners during the week that you can repurpose and turn into new meals. I love this strategy because you reduce your food waste and often spend time and money since portions of your new meal are already prepared for you in advance.
I'll try to take leftover chicken and pan fry or microwave it with a bit of water and some different spices then use it for things like lettuce wraps, tacos, stir fries or pastas, or I'll take something like chili and add it to a base like oven roasted sweet potatoes or frozen fries. There are so many ways to get creative with leftovers!
Making last-minute sheet pan dinners
Last minute dinners are never fun, but you can certainly make them easier by keeping the mess to a minimum and using veggies from your fridge! Findus fish products are perfect for sheet pan dinners because they can also be cooked in the oven for 25-30 minutes – the same time it takes for most veggie/potato combos! And the best part is that the fish already comes with a delicious herb butter so you'll need minimal seasonings to accompany your sheet pan dinner.
I also turn to sausages, shrimp and chicken for sheet pan dinners because they tend to cook relatively quickly and you can adjust the flavour combos so easily – I love how versatile sheet pan dinners are!
I love sheet pan dinners for their simplicity, and they're another great way to cook proteins fast and have a quick and easy meal come together in the oven relatively hands-free and mess-free. The less I have to do the dishes the better, you know what I'm talking about? LOL
Purchase pre-chopped veggies in the prepared foods section of the grocery store
This is one of my best tricks ever, and rarely do other people take advantage of this! The key is to not spend too much money in this area of the grocery store but when done right, purchasing prepared foods from the grocery store can save you so much hassle.
I personally will buy things like pre-chopped sweet potatoes, beets, squash and other root vegetables just so I don't have to go through the process of peeling and chopping everything. It saves a TON of time. Same with the spiralized veggies. Most grocery stores now have zucchini, beet, squash and sweet potato spirals so if I know I need some I just pick them up fresh the day I'm going to use them.
I do avoid things like chopped peppers and onions just because I find those to be much more expensive and it's easier to cut up a pepper vs a root vegetable so pick and choose your veggies wisely. I also love pre-packaged veggie blends and slaws to keep meal prep easy. Pair your veggies with a delicious protein and grain and you're all set meal-wise!
Have freezer-friendly meals on hand
More than just preparing food fresh, sometimes it helps to have whole meals on hand that you can just pull out of the freezer. I'm super big into protein pancakes and little pot pies but I also frequently freeze things like spaghetti, mac and cheese, soups, curries and more.
So many meals can be frozen when you make them and they totally save you on those nights when you just don't wanna cook or store by the store on your way home.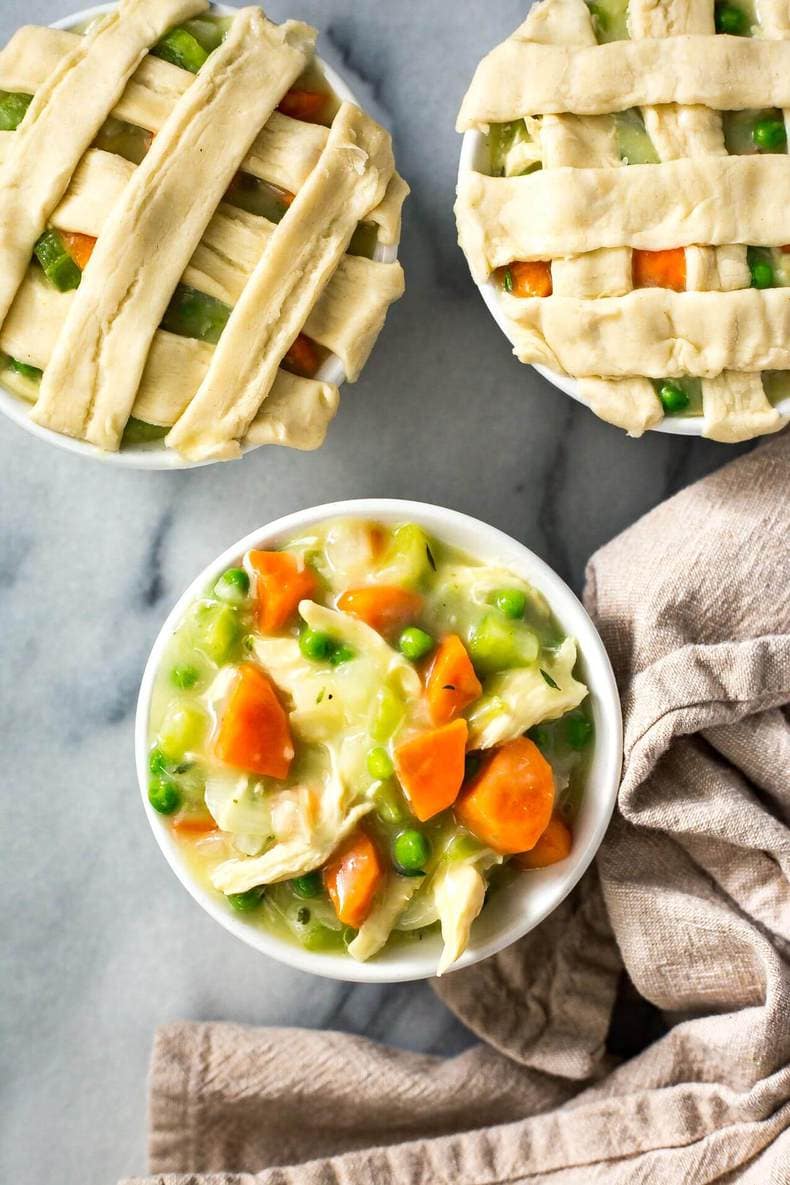 At the end of the day, committing to a healthy diet can be super challenging but it's very rewarding and as I hope you've learned from this post, you can always make some creative shortcuts to get dinner on the table faster and with less effort. Don't spend all evening slaving away in the kitchen when you can have some tips and tricks up your sleeve to putting your meals together faster.
Whether it's breakfast, lunch or dinner that you struggle with, getting clear on what meal of the day you need to work on too can often help. I know I have trouble with breakfast, for instance, because I hate making and eating it in the morning so I know I need to prep that ahead of time. I also struggle with dinner because I want something delicious, but am often tired at the end of the day.
That's where delicious, healthy products like Findus come in handy, as well as freezer meals and other make-ahead foods and ingredients.
How do you prepare for long work weeks when it comes to sticking to your healthy meal routine? I'd love to know in the comments!
Print Recipe
My Favourite Meal Planning Shortcuts