Mason Jar Christmas Gifts + Curried Lentil Soup in a Jar
This Curried Lentil Soup in a Jar is one of those affordable homemade mason jar gifts that is a perfect Christmas food gift! It makes a delicious, hearty soup – especially with added vegetables!
OMGGGG say hello to my fave new mason jar soup! And it is the EASIEST soup you'll ever make, no lie! Yes, an easier meal prep soup than these Spiralized Zucchini Noodle Soup Jars too because technically there is no cook time in order to prep these out.
And did I mention they make amazing mason jar Christmas gifts?!
Not only is this Curried Lentil Soup in a Jar the perfect gift idea, it's also just a plain old delicious last-minute meal idea for cold winter nights. So basically it's like Christmas food gifts and meal prep all in one. Amazing if I do say so myself.
It's also gluten-free, vegetarian, dairy-free…I could go on. Lentils are one of my favourite protein sources and there's something about them that's so hearty and filling. They really are perfect for comfort food, and the red lentils especially add a nice thick texture to this soup alongside the coconut milk because they break down a bit while they cook.
Did I also mention that you already most likely have all the spices on hand in your spice drawer? I mean, hopefully your spice drawer is well-stocked, but most of the ingredient list is made up of no-cook pantry staples.
I will say that the can of coconut milk adds a nice touch to these mason jar gifts but technically you don't even need that, or the veggies. Of course since I'm all about health and nutrition though, I felt that I should at least give you a super easy way to turn this into a full-blown meal with veggies you probably already have on hand at home.
I mean, who doesn't always have a bag of carrots kicking around, or some celery? Those are two staples I buy nearly every week because I'm always snacking on raw veggies and hummus or adding celery to my green smoothies (trust me on this, it gives them a nice little kick!)
Other Mason Jar Christmas Gifts
And before we dive too much into these Mason jar gifts, I thought I would offer up some other delicious Christmas Food Gifts for you to gather some ideas as we are quickly coming up on the holidays!
Here are some other amazing mason jar Christmas gifts that are perfect to make for your loved ones, and they're an amazingly affordable way to get everybody a little something without having to run to too many different stores.
Peep these Christmas food gifts below: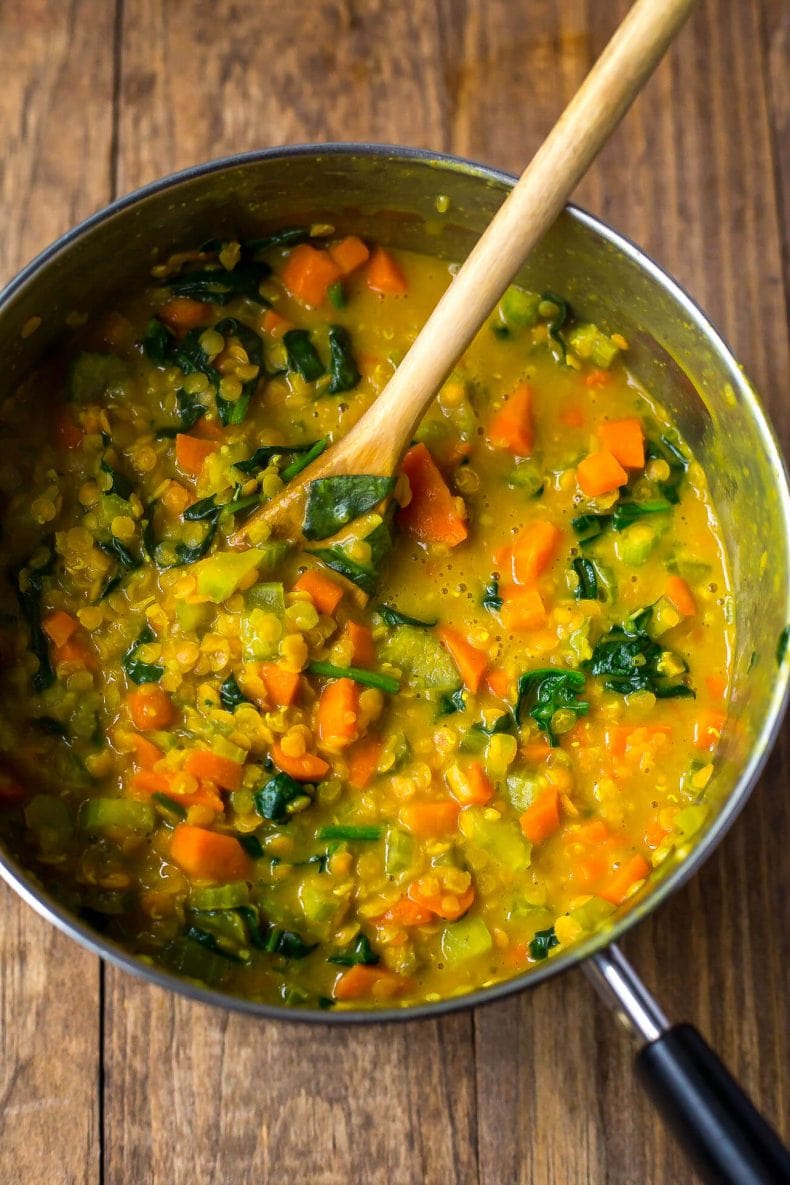 The Perfect Soup in a Jar Formula
Though it's fairly common to find baked goods ready to go in a jar as Christmas food gifts, finding savoury options is much harder! You don't want to put the onus on your loved ones to have to go out and buy a bunch of ingredients they wouldn't already have on hand at home, so soup in a jar and cookies/pancakes/sweets are a more viable option to give as mason jar gifts since they don't spoil and all you often need to add is water or a staple like eggs.
The key to making this lentil soup in a jar is to use a ton of spices, dried bouillon cubes and lentils as the base, and then allow for other canned goods and staples like coconut milk and water to make the full meal. Of course I like to add in some extra veggies to add more nutritional value, so here are some other great options to suggest to those you're gifting these mason jar gifts to:
Bell peppers
Broccoli
Cauliflower
Sweet potato
Greens like kale or Swiss chard
Squash
Zucchini
Cabbage
Leeks
Green beans
You see it in the fridge? Dump it in here! Cooking times for different veggies may vary – celery and carrots for instance take longer to cook and won't be too unappetizing even if they cook too long, but other veggies like bell peppers and broccoli won't be as good if left in for too long so adjust the time you throw in the veggies as you make substitutions.
For a more delicate vegetable like zucchini or broccoli I would recommend stirring them in within the last 5 minutes of cooking time, while I would recommend stirring in greens like spinach, kale or Swiss chard in at the very end when you're removing the soup from heat. Don't cook them at the very beginning like I did with the carrots and celery – adjust accordingly.
Now, on top of all the other things I mentioned, this Easy Coconut Curry Lentil Soup in a Jar is also FREEZER-FRIENDLY when fully cooked!
Whip up a giant batch, then store in individual serving-size glass containers and freeze up to 3 months, reheating for 6-7 minutes or so in the microwave. Could dinner GET any easier?!
Talk about a ton of power from a tiny little jar of food. Your friends and family are just going to LOVE these Mason Jar Christmas Gifts!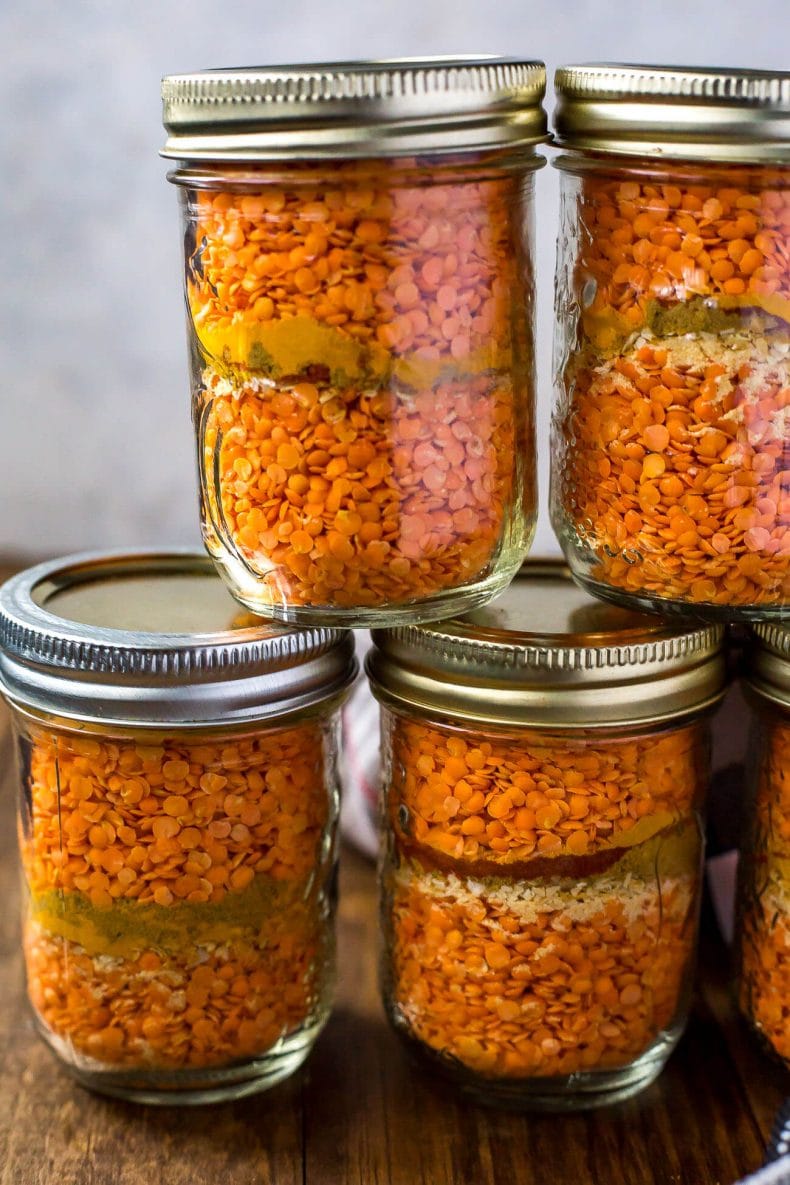 Will you be making this Easy Curried Lentil Soup in a Jar? 
These mason jar gifts make the cutest, most perfect Christmas and double as your weekly meal prep so no matter what time of year you're making these up, they'll always be appreciated as a delicious short-cut to lunch or dinner!
If you try any of my recipes be sure to let me know on Instagram, Twitter, Facebook or in the comments – I'd love to see what you come up with!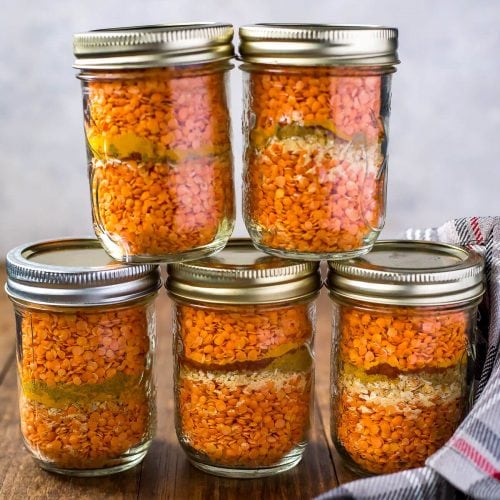 Print Recipe
Easy Coconut Curry Lentil Soup in a Jar
This Curried Lentil Soup in a Jar is one of those affordable homemade mason jar gifts that is a perfect Christmas food gift! It makes a delicious, hearty soup - especially with added vegetables!
Servings:
1
jar (4 servings per jar)
Ingredients
Dry Soup Mix
1

cup

red lentils

1

tsp

garlic powder

1

tsp

onion flakes

1

tsp

curry powder

1

tsp

paprika

1

tsp

turmeric

1/2

tsp

cumin

1

bouillon cube (chicken or vegetable)
Soup add ons
1

tbsp

butter

2

carrots, chopped

2

celery stalks, chopped

2

cups

boiling water (for bouillon cube)

1

can

full fat coconut milk

1

cup

chopped baby spinach
Instructions
In medium-sized mason jars (I use the size you make jam in), add 1/2 cup lentils, then all the spices. Add the remaining 1/2 cup lentils. Add lid and set aside/give as a gift along with can of coconut milk.

To make a meal out of it, you can add veggies (instructions below). In a pinch, all you need is a can of coconut milk and the 2 cups of boiling water. However, I love adding extra veggies because it's super easy! Read below.

In a large pot, melt butter over med-high heat. Add carrots and celery, sauteing for 7-8 minutes until veggies are softened. Add boiling water to bouillon cube from jar and stir until dissolved. Add broth and coconut milk, bringing to a boil.

Add lentil soup mix and simmer for 20 minutes until lentils are fully cooked. Remove from heat and stir in spinach. Serve and enjoy! Soup also freezes well! Add to glass bowls, freeze and reheat in the microwave for 5-6 minutes.
Nutrition
Serving:
1
g
|
Calories:
427
kcal
|
Carbohydrates:
43.75
g
|
Protein:
22
g
|
Fat:
18
g
|
Saturated Fat:
5
g
|
Monounsaturated Fat:
1
g
|
Cholesterol:
7
mg
|
Sodium:
479
mg
|
Potassium:
741.5
mg
|
Fiber:
11
g
|
Sugar:
6
g
|
Vitamin A:
6200
IU
|
Vitamin C:
6.4
mg
|
Calcium:
55
mg
|
Iron:
4.6
mg