Boring dinners no more! This page is home to all of my easy dinner ideas. When it comes to eating healthy, dinner is an important meal of the day. It's easy to get stumped and lack inspiration for dinnertime, so my best advice is to choose simple, easy ideas that you can make in under an hour. Here you'll find my fave 30-minute dinners, easy one pan and one pot meals that minimize clean up, along with some twists on your boring old chicken dinner and stir fry. Check out all of my awesome dinner ideas!
Access my free meal prep challenge!
Access my free meal prep challenge & bonus resources.
Over five printable PDF downloads to help you stay on track with your health & fitness goals like a weekly meal planner, printable shopping list, and more will be sent during the challenge!
Tips for getting dinner on the table fast!
Be realistic with your schedule when making your meal plan. Ideally, you'll plan out 5 dinners in a week, leaving yourself to eat leftovers or quick meals the other two days. Having a plan in place with recipes selected ensures that you know what you're cooking and have all the ingredients to make dinner, whether it's batch cooking a bunch of food or cooking a fresh meal each night.
Many times we don't think of the short cuts we can take when it comes to getting dinner on the table each night. Slow cooker meals are great - you just dump in all the ingredients and come home to a cooked meal! The Instant Pot is great for dump and go as well, and one pot and one skillet recipes help you do less dishes each night. Don't be afraid to use the gadgets in your kitchen to help you!
A great way to cut down on cooking time each night is to prepare some ingredients ahead of time or even do a little bit of cooking at the beginning of the week. Try cooking and shredding some chicken breast, or cooking some rice or quinoa in your rice cooker so that all you need to do is reheat or add to a recipe when the time comes to cook dinner. It'll make  dinner seem like a breeze!
The ultimate weeknight dinner ideas guide!
If you're looking for healthy recipes that are ready super quickly and are big on flavor, I've got you covered with the ultimate dinner guide! There's everything you could ever want for dinner listed in this mega post, including pasta, chicken dinners, tacos, slow cooker meals, soups & stews, chilli, stuffed vegetables, stir fries, pizzas and more. There's a little something for everyone!
Whip up quick dinners using these tools
My most popular dinner Recipes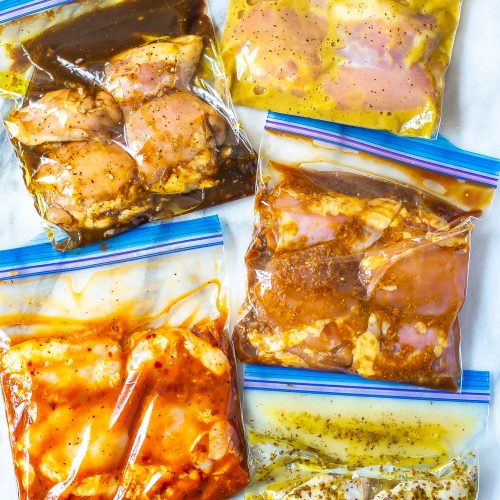 These Delicious Chicken Thigh Marinades are perfect for meal prep and super easy! Try Sesame, Chipotle, Greek, Balsamic and Honey Dijon. Ingredients and substitutions Boneless