This Chilli Chicken is inspired by Chinese takeout – it's the perfect blend of sweet & spicy chicken stir fried with onions and green peppers, then served over rice!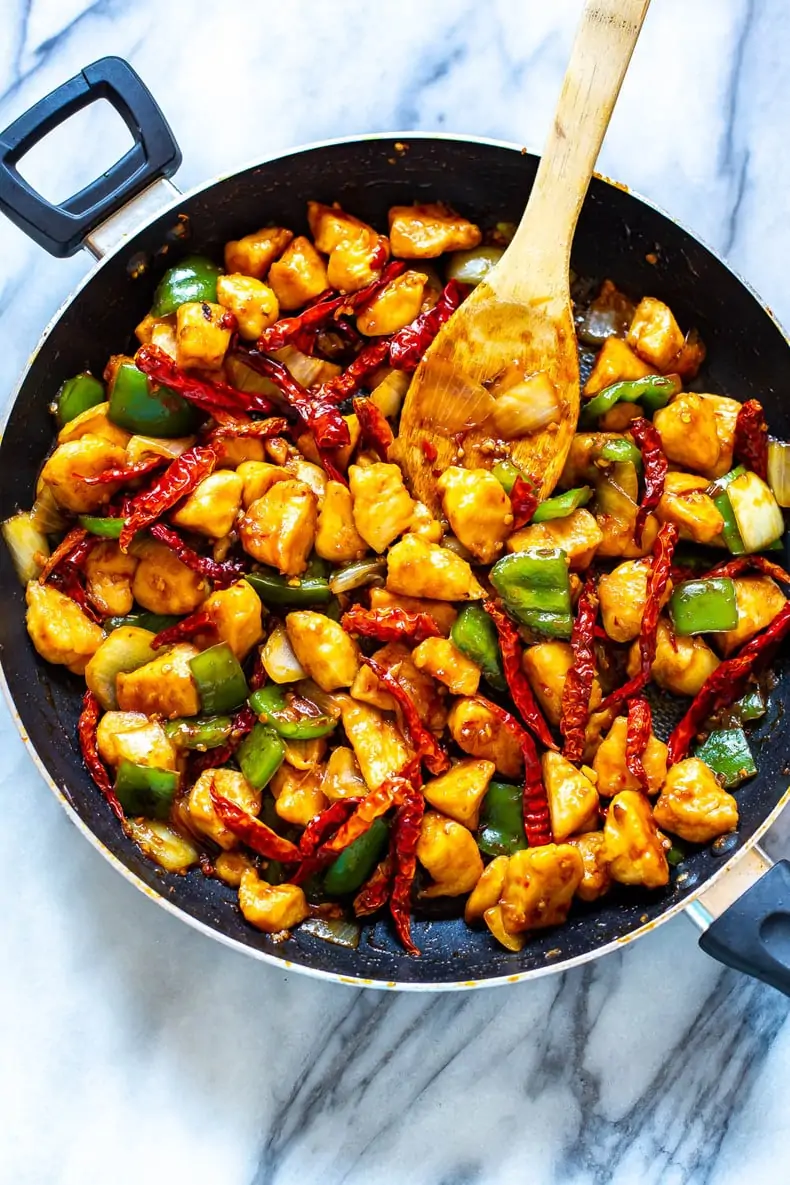 Chillli chicken sauce
It's easy to make your own stir fry sauce with a few pantry items! Here's what you need to make the sauce for this chilli chicken:
Soy sauce (or tamari/coconut aminos if you need it to be gluten free)
Sweet chili sauce (Made from a base of red chili peppers and rice wine vinegar, this is a common Thai condiment and takes the edge off the heat in my version of this recipe)
Sambal oelek (This is made from a variety of chili peppers. Sriracha is good alternative if you have trouble finding sambal oelek in your local store.)
Minced garlic
Whisk the ingredients well to combine.
Why marinate chicken in baking soda?
The first step of this chilli chicken recipe is to allow the chicken to sit in a mixture of cornstarch and baking soda for about ten minutes.
Baking soda raises the pH level of the chicken, which jump starts the browning process. The chicken pieces will get browner and crisper after a quick baking soda soak then they normally would. You'll have chicken with a crisper coating without using flour.
While it ensures that the exterior will be crispy, it keeps the interior of the meat super moist.
The cornstarch will act to thicken the sauce during cooking and provide a kind of "breading" for the chicken.
How to make chilli chicken
Dice the chicken into bite-sized pieces and mix it with the baking soda and cornstarch marinade. After you have marinated the chicken, it will take less than 30 minutes to complete the meal.
While the chicken is marinating, combine the sauce and cook the rice. You can do this in a rice cooker, on the stove top or in an Instant Pot.
Saute chicken in oil over medium-high heat until browned.
Add the onion and pepper and cook until soft.
Pour the stir fry sauce over the chicken and veggies and combine well. Cook for a few minutes to thicken the sauce.
Ingredient substitutions
This recipe will work great for turkey, pork or beef in place of the chicken.
It would be easy to include additional veggies in this meal. You can add them to the pan when you add the peppers and onions. Ideas for increasing the veggies in this chilli chicken are:
Baby corn
Broccoli
Green beans
Snap peas
Asparagus
You can serve this recipe with any type of rice (jasmine rice is my fave pairing), or rice noodles or quinoa for a full meal.
How to make it less spicy
If you just don't like the heat of this Chinese-inspired chilli chicken, you can enjoy the flavor without the spiciness with a few simple substitutions.
First, leave out the dried chilis all together. They are added to provide more flavour and heat, but they shouldn't be eaten even if you choose to include them.
Most of the heat does come from the stir fry sauce itself. Sweet chili sauce is made from chili peppers, but there are many options on the market that are more sweet than spicy. Find one with the balance you prefer.
Sambal oelek has much more heat. It is generally made with cabe peppers, which are about as hot as a cayenne. This puts it in the 30,000-50,000SHU range on the Scoville Scale. That's pretty hot! You can use a more mild chili paste in its place or even use more sweet chili sauce to balance it out.
You can even add a bit of honey to the sauce to sweeten it and temper the more spicy ingredients.
Storing and reheating
You can refrigerate chilli chicken for about five days, so it's perfect for meal prepping for the week!
You can reheat it in the microwave for a couple of minutes, but it will lose the crisp edges from pan frying the chicken. If it's available to you, the best way to reheat this is to warm it in a pan with a little bit of oil, just like you cooked it.
If you love your new homemade stir fry sauce, you can make a larger batch of it and store it in the refrigerator for two weeks in a mason jar. Use it to spice up any meat or veggie you have on hand!
Freezing chilli chicken
You can freeze this chilli chicken recipe too! If you plan to use it as a freezer meal, undercook the veggies so they don't get mushy in the freezer.
You'll want to freeze the chicken and rice separately. The chicken will last for three months in the freezer. Thaw it in the refrigerator overnight before reheating.
Rice is fantastic in the freezer. It should be used within a month. Rice is so easy to make in a large batch on the stove or in the Instant Pot. So don't be afraid to make extra and freeze what is left. You can reheat rice directly from the freezer. Pop it in the microwave, sprinkle it with a bit of water and cover it with a paper towel to keep in the moisture.
You can also freeze just the stir fry sauce. Store it in an airtight container or bag and freeze for up to three months. Let it thaw completely before tossing with your chilli chicken.
More stir fry recipes
Meal prep tools for this recipe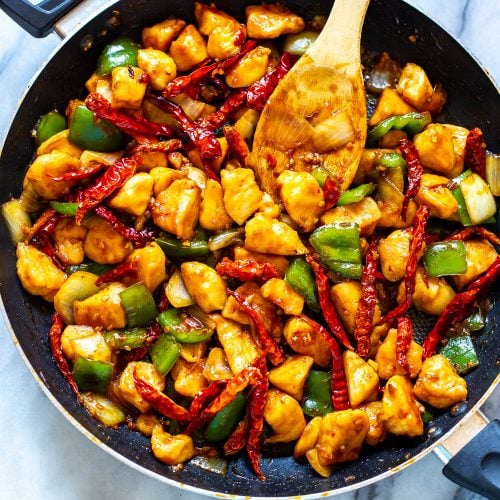 Chinese-Inspired Chilli Chicken
This Chilli Chicken is inspired by Chinese takeout - it's the perfect blend of sweet & spicy chicken stir fried with onions and green peppers, then served over rice!
Print
Pin
Rate
Ingredients
1

lb

chicken breasts

diced

1

tbsp

cornstarch

1

tsp

baking soda

1/2

tsp

salt

1

tbsp

canola oil

1

yellow onion

chopped into chunks

1

green pepper

chopped into chunks

4

green onions, sliced

1/2

cup

dried chillis (optional)
Stir fry sauce
2

tbsp

soy sauce

2

tbsp

sweet chili sauce

1-2

tbsp

sambal oelek (chili sauce)

depends how spicy you like it

4

cloves

garlic, minced
Jasmine rice
1 1/4

cups

water

1

cup

jasmine rice

1

tsp

butter

1

pinch

salt
Instructions
Toss chicken with cornstarch, baking soda and salt, setting aside for 5-10 minutes.

Meanwhile, combine sauce ingredients in a bowl, and cook rice in a rice cooker or on the stovetop.

Add canola oil to a large frying pan or wok over med-high heat. Saute chicken for 5 minutes or so until browned, then add onion and green pepper, cooking another 3-4 minutes until softened.

Toss chicken mixture with stir fry sauce, cooking for another 2 minutes or so until sauce thickens. Remove from heat.

Serve chicken overtop of cooked rice and garnish with green onions. Enjoy!
Video
Nutrition
Calories:
389
kcal
|
Carbohydrates:
48
g
|
Protein:
29
g
|
Fat:
8
g
|
Saturated Fat:
2
g
|
Cholesterol:
75
mg
|
Sodium:
1312
mg
|
Potassium:
617
mg
|
Fiber:
2
g
|
Sugar:
6
g
|
Vitamin A:
295
IU
|
Vitamin C:
30
mg
|
Calcium:
37
mg
|
Iron:
1
mg