Chili Chicken Quinoa Salad
This Chili Chicken Quinoa Salad is a spicy gluten-free salad chock full of protein and flavoured with cilantro, lemon juice and chili peppers! The perfect light lunch and the flavours get better over time!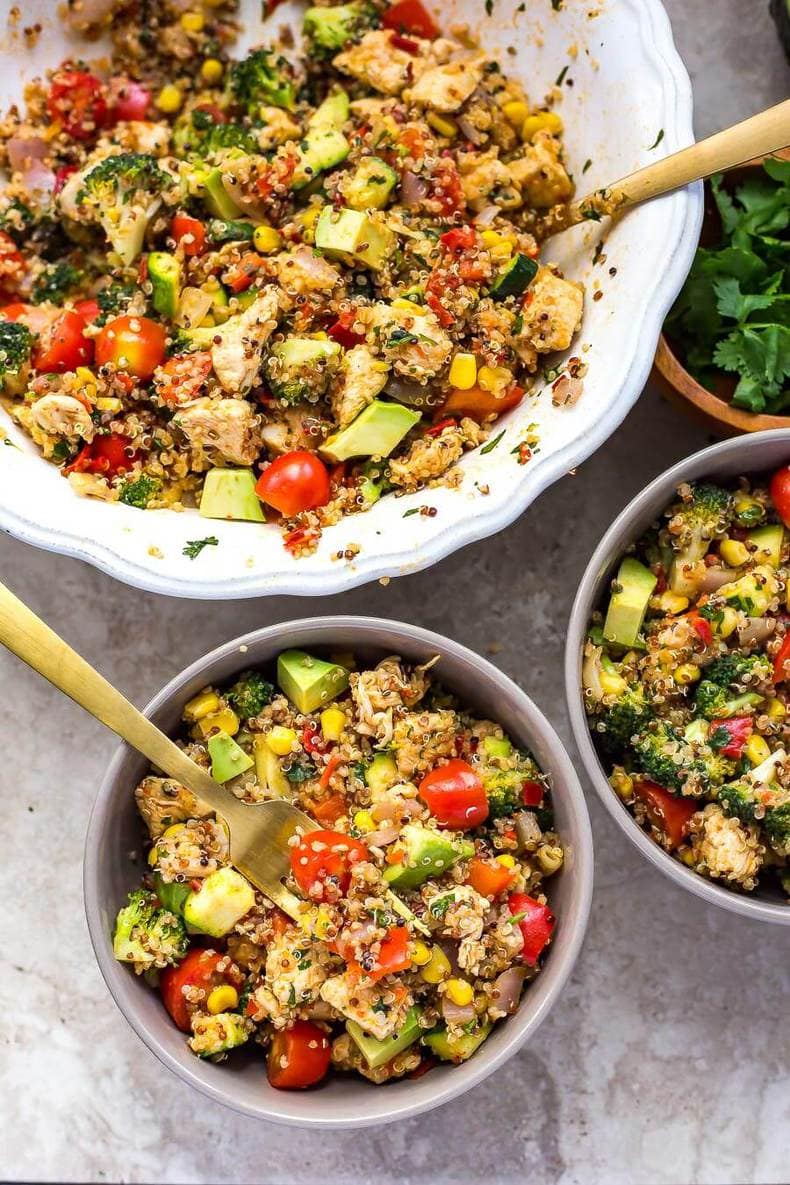 This post is sponsored by PC Black Label – thanks for supporting the brands that help keep my blog up and running!
Now the weather's warmer, I am ALL about fresh, unique flavours in salads. Give me some heat, some citrus, some fresh herbs and most of all, some protein!
MY LATEST VIDEOS
That's right – salads can be both filling and delicious. Your next go-to lunch idea will be the one you prep and make ahead of time in a big batch for the week and I promise, you won't get sick of these flavours!
Chili Chicken Quinoa Salad for the win!
I think cooking in the summer months starts to get even harder because you're constantly on-the-go. Take this past weekend for example. I was out and about with friends, travelling back and forth from Hamilton to Toronto and pretty much all over the place.
This is honestly how a lot of my weekends go – I'm carefree until all the weekly planning has to happen! And then I feel the panic start to set in until I realize how easy meal prep and cooking for the week can actually be. AND how many different flavour combos you can have!
Speaking of new flavours combos, I'm SUPER excited to announce that I will be partnering with PC Black Label over the course of the next few months to show you some fun and exciting ways to change up your weekly lunch and dinner menus. I am absolutely in love with PC Black Label products because they really touch on so many food trends and make it easy for us aspiring foodies and home chefs to mix it up in the kitchen.
Each month I'll be unboxing a PC Black Label black box filled with two surprise ingredients and sharing the recipe development process on my social channels, so definitely be sure to check in on my Instagram stories and Twitter feed to see what I get each month ahead of time – I'll be sharing the final recipe here on the blog and I'm telling you, based on this last recipe the results will certainly be delicious! 😉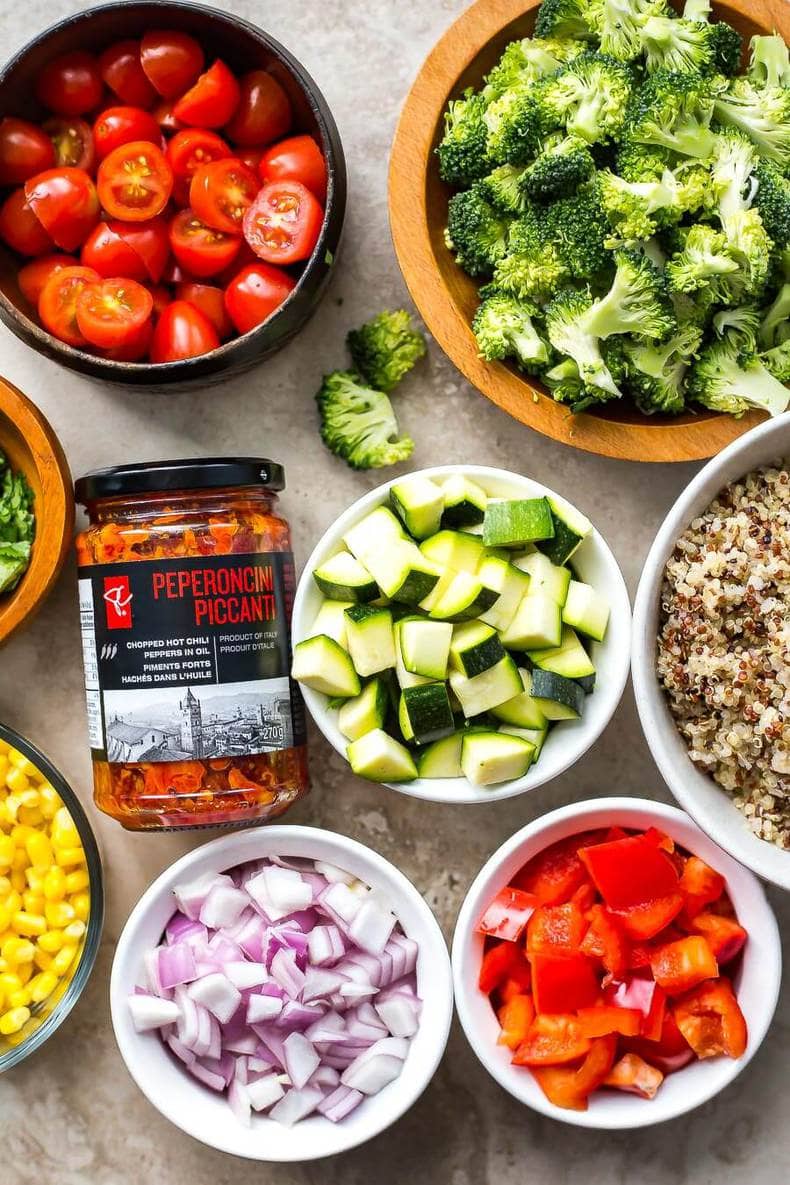 In the midst of creating this Chili Chicken Quinoa Salad, I think I came back to this realization that cooking can be fun and full of experimentation. Honestly, I think I get so wrapped up in the recipe development process sometimes that I forget why I started cooking all along: not just for health, but also because I really enjoy it.
I love discovering new ingredients and different ways to combine flavours in unexpected ways. Let me tell you, the peperoncini piccanti (chili peppers in oil) in this month's PC Black Label black box really inspired me to try something different. I also received a jar of caponata (eggplant antipasto) that I can't wait to serve along some good cheese and crackers this summer as I gear up for some patio entertaining!
Now the trick to getting the flavours in this Chili Chicken Quinoa Salad right is by using a variety of different veggies, and marinating the chicken in the chili peppers a little bit ahead of time as you prep the veggies.
You can also cook the quinoa ahead of time if you'd like – this is one of my secret meal prep tricks: batch cooking all of my grains for the week so you can just add them to different healthy buddha bowls as you go along. Because, let's face it. What you're craving during the week may change with time after all!
Will you be making this Chili Chicken Quinoa Salad? 
I am totally looking forward to playing around and experimenting with new flavours as I open more of the PC Black Label black boxes!
As usual, if you try any of my recipes be sure to let me know on Instagram, Twitter, Facebook or in the comments by using the hashtag #PlayWithYourFood – and visit pc.ca/blacklabel!
Print Recipe
Chili Chicken Quinoa Salad
Yum
This Chili Chicken Quinoa Salad is a spicy gluten-free salad chock full of protein and flavoured with cilantro, lemon juice and chili peppers! The perfect light lunch and the flavours get better over time!
| | |
| --- | --- |
| | |
Cook quinoa according to package directions. Meanwhile, mix diced raw chicken with peperoncini piccanti and 1/4 tsp salt.

Add chicken to a large frying pan over med-high heat. Cook for 7-8 min until chicken starts to brown and cook through. Add broccoli, zucchini, red pepper, red onion and corn, tossing well and cooking for another 5 min until veggies start to soften.

Remove from heat and add to a large bowl. Add cooked quinoa, lemon juice, cilantro, oregano, salt and pepper and toss, mixing well. Mix in cherry tomatoes and avocado, then serve and enjoy!