This Build Your Own Popcorn Bar is the perfect solution to in house entertaining this winter season! Let guests pick and choose their own popcorn toppings at your next party!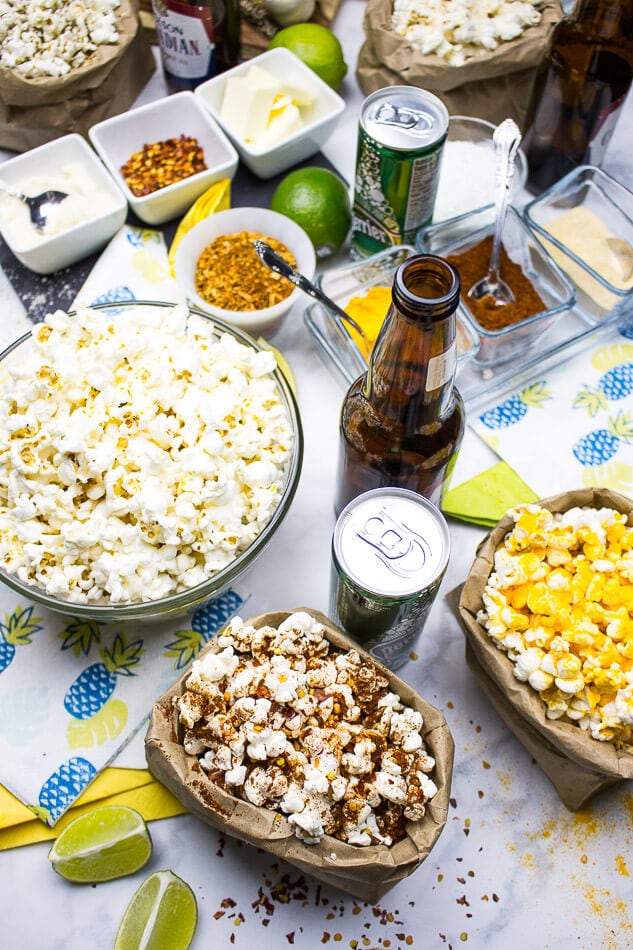 Okay, so who else has been huddled under piles and piles of blankets so far this winter season? ??
I am not exactly a winter lover. I mean, I'm a summer baby – I was born in the summer, I lifeguarded out in the hot sun for many years and even worked outside in the sweltering sun as a construction worker one year. While many of you complain about the heat and humidity, I'm taking it all in and loving it (except for what the humidity does to my hair…but that's another story?)
Don't get me wrong though, there are things I really love about winter.❄️
Like how cozy your bed feels at the end of the day, when simple joys like a giant comforter and Netflix in front of a fire are welcome changes to the often restless, hot and sticky sleep you sometimes only get in the summer. Any excuse to get warm in the winter – I'm talkin' whole body warm as in an hour-long hot bath or hot yoga – feels absolutely luxurious.
And let's not forget the excuses to sip delicious, rich hot chocolates and mocha lattes after an afternoon of winter hiking, skiing or tobagganing.⛄️
Nobody else tobaggan anymore around here? Okay, I guess I'm the only one still reliving my childhood from time from time…?
But one thing I really, really hate about winter is the darkness. It's not so much even the cold as it is the short days. I swear, they just drain you of energy do they not?
And then you don't want to go out anywhere, you start to feel kind of sluggish and you really have to work hard on your self care…except even that can then feel like a chore at times.?
So, needless to say, I don't really get out much in the winter. And damnnnnn, it's SO hard when you work from home too. There are times when I never wanna leave.
Like can I just hibernate inside here until winter is completely over? Pleaaaaaaseeeeeeee?????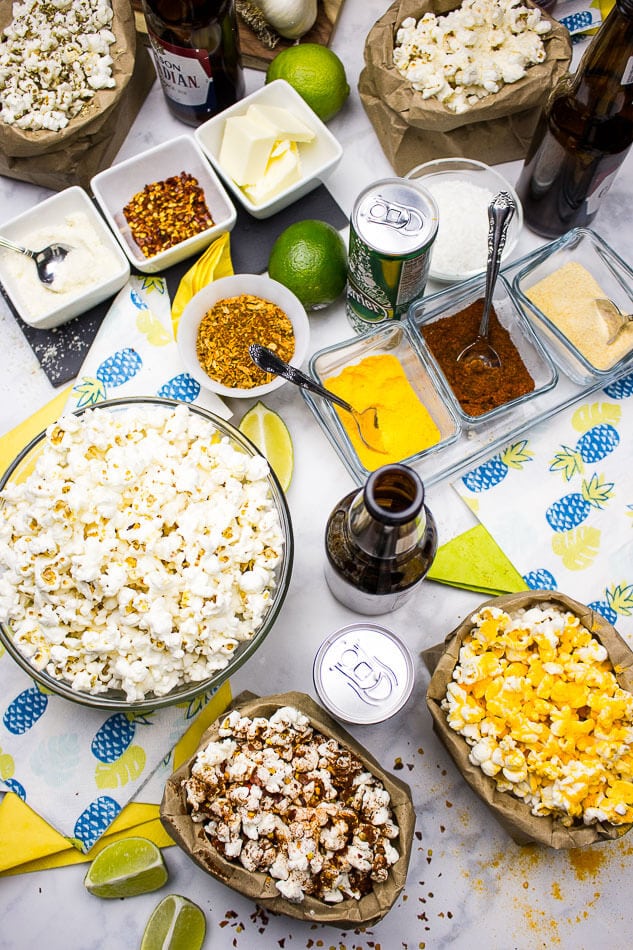 Well, this build your own popcorn bar is the answer to just about every single one of your snacking dreams this winter season, and a great excuse to maybe, you know…
GET OUT OF THE HOUSE.?
Okay, so I bet you wanna know what exactly I have going on here in terms of flavour combos. So very important, the flavour combos.
Here's what I have going on in my Build Your Own Popcorn Bar:
Chili Lime Popcorn
Garlic Parmesan Popcorn (remember when I made this stuff last year with rosemary? So much yum!?)
Mac n Cheese Popcorn (okay, it might just be dried Kraft Dinner cheese mix…but it's SOOOOOO good!)
Zaatar Spiced Popcorn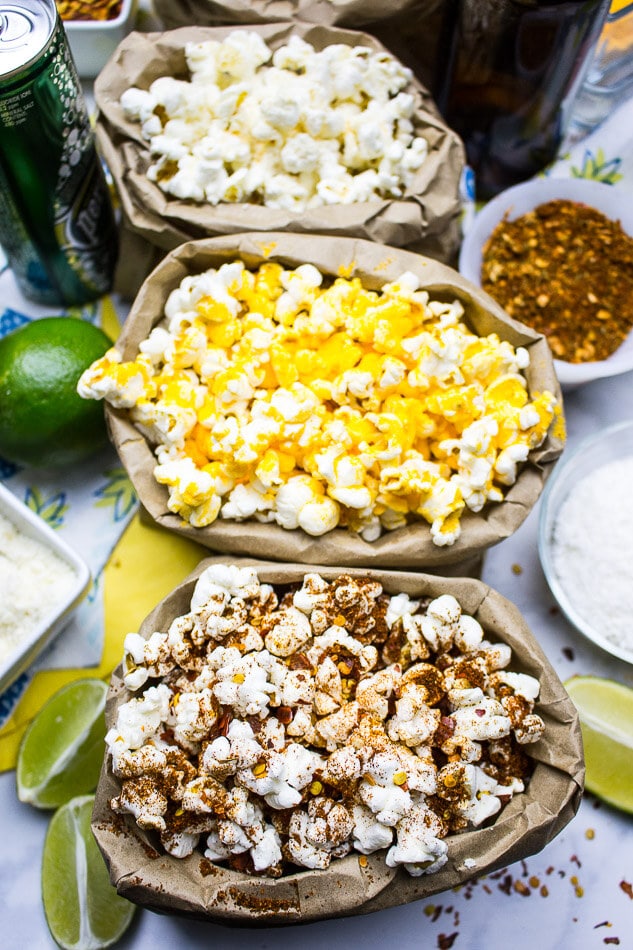 And of course I have many, many more toppings and flavourings laid out like melted butter, sriracha sauce, shredded coconut, fresh lime wedges, different kinds of shredded cheese, spice rubs and more.
Be prepared to take movie night to the next level!??
If you're feeling reallyyyyyyyyy lazy I suppose you could just run to the store and buy a ton of those popcorn spice mixes and stuff, but honestly, there are so many different things you can use as popcorn flavourings that you probably already have on hand at home so you can save on time and money for your next girls' night in.
Hint: look in your spice drawer…unless yours is like mine and constantly disorganized?
Will you be trying out this DIY Popcorn Bar idea? There are so many ways you can customize this thing it's insane! As always, if you try any of my recipes or have any questions, be sure to reach out on Instagram, Twitter, Facebook or in the comments – I'd LOVE to hear from you!
And I'd also secretly love to hear from other winter haters but that's neither here nor there…?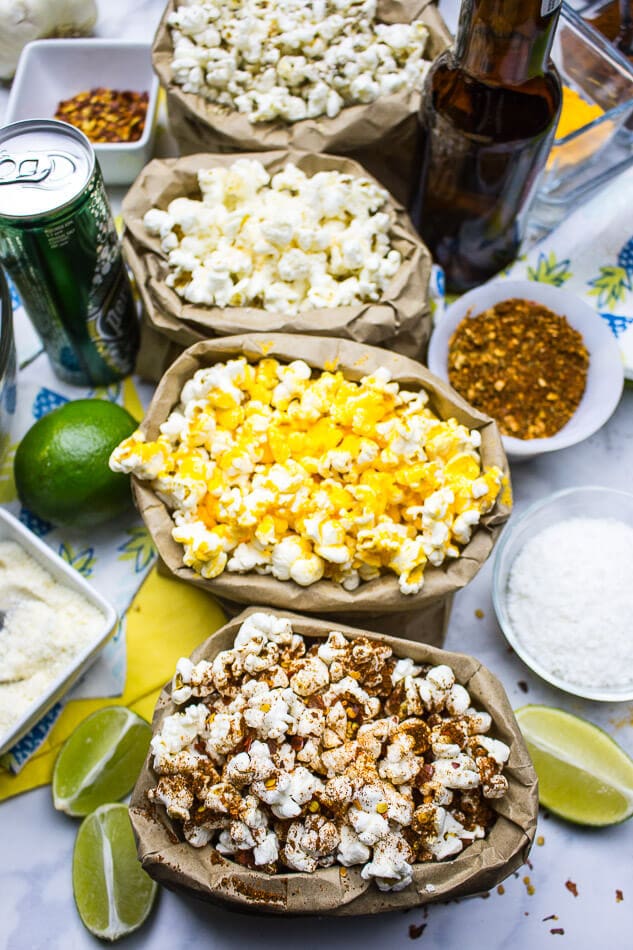 Build Your Own Popcorn Bar!
This Build Your Own Popcorn Bar is the perfect solution to in house entertaining this winter season! Let guests pick and choose their own popcorn toppings at your next party!
Print
Pin
Rate
Ingredients
Extra topping ideas
Butter

Lime wedges/citrus zest

Sriracha or hot sauce

Shredded cheese (parmesan, cheddar, Swiss, etc)

Spice rubs

Shredded coconut

Caramel/chocolate sauce
Chili Lime Popcorn Seasoning
1/2

cup

chili powder

2

tbsp

lime zest

1

tsp

red chili flakes

1/2

tsp

salt
Garlic Parmesan Popcorn Seasoning
1/2

cup

parmesan cheese

1

tbsp

garlic powder

1/2

tsp

salt
Zaatar Spiced Popcorn Seasoning
1/2

cup

zaatar spice

1

tsp

garlic or onion powder

1/2

tsp

salt
Mac n Cheese Popcorn Seasoning
1

package

Kraft Dinner dried cheese mix