Healthy breakfast recipes
Welcome to breakfast central! This page is the hub of all my breakfast recipes. When it comes to meal prep, breakfast is an important staple and something you may want to prepare ahead of time so you ensure you have a healthy start to each day. This is especially handy when you're running out the door in the morning. I have everything from egg dishes to oatmeal, pancakes, smoothies and fancy coffees. You'll also find plenty of grab & go options that you can take with you to work.
Access my free meal prep challenge!
Access my free meal prep challenge & bonus resources.
Over five printable PDF downloads to help you stay on track with your health & fitness goals like a weekly meal planner, printable shopping list, and more will be sent during the challenge!
Meal prep breakfast Tips:
Be realistic with your needs and schedule when planning out your weekly breakfast. Do you tend to forget breakfast and that's why you need to prep in the first place? Then be prepared to make at least 5 servings of breakfast in a row so you can enjoy it all week long. If you know you can cook it the morning of, then go that route!
Getting help from your freezer is a great way to prep for breakfasts and ensure that you get enough variety so you aren't bored of eating the same thing every morning. I like to keep things like breakfast burritos, quesadillas, muffins and oatmeal/egg cups in the freezer when I'm short on time. Pop it in the microwave for a couple of minutes and you're set!
Prepare ingredients ahead of time
You don't need to make an entire recipe ahead of time to be prepared for breakfast each morning. Even if you do something as simple as throwing together some smoothie packs or have some veggies already chopped up in the fridge to throw in with some scrambled eggs then you're ahead of the game!
Tools for meal prepping breakfasts
My most popular breakfast Recipes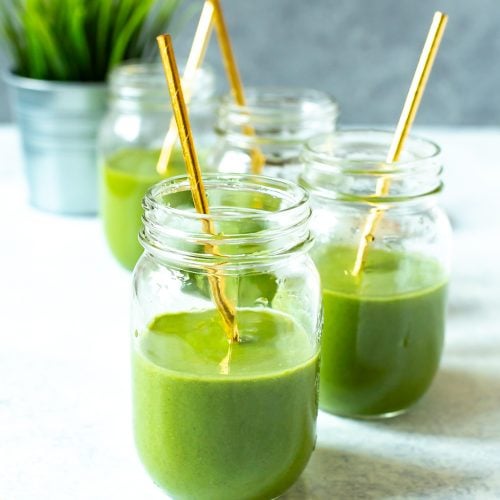 This is the Best Meal Prep Green Smoothie filled with tons of healthy ingredients like spinach, green apple, banana and mango! Ingredients and substitutions Bananas