Dinner doesn't have to take all night! On this page you'll find easy meal ideas that come together in about 30 minutes or less, making last minute dinners quick and delicious. You'll find easy pastas, stir fries, chicken dinners, skillet meals, sheet pan dinners and more. The goal is to get you cooking healthy, homemade meals in a flash so you can skip the takeout and get on with your evening. Check out all of my awesome 30-minute meal ideas!
Access my free meal prep challenge!
Access my free meal prep challenge & bonus resources.
Over five printable PDF downloads to help you stay on track with your health & fitness goals like a weekly meal planner, printable shopping list, and more will be sent during the challenge!
Tips for making 30-minute dinners
Go over the recipe ahead of time
A great way to ensure that you're able to breeze through a recipe and cook quickly is to go over the recipe ahead of time. Familiarize yourself with the steps so that it's just a matter of going through the motions instead of going back and forth reading the recipe. This way you also have less of a chance of overcooking your food or making mistakes with the recipe.
Meal prep ingredients beforehand
A great way to cut down on cook time is to prepare some ingredients or even do a little bit of cooking at the beginning of the week. Try cooking and shredding some chicken breast, or cooking some rice in your rice cooker so that all you need to do is reheat or add to a recipe when the time comes to cook dinner. You can also chop up veggies & mince garlic ahead of time.
Choose one pot & one pan recipes
Recipes that can be cooked on one pan or in one pot are super helpful in cutting down cook time. You'll dump all of your ingredients and usually cook for 20 minutes or so. You also have the flexibility to prep other ingredients or garnishes while your main dish cooks. The best recipes are sheet pan chicken & veggies, one pot pastas, stir fries and skillet dinners!
Cut down on cook time using leftover chicken!
If you're looking for healthy recipes that come together quickly, then look no further than leftover chicken to give you a head start! By using leftover, pre-cooked or rotisserie chicken, you can speed up your cook time but still get wholesome, delicious meals on the table in 30 minutes or less. Check out all the best ways to use up cooked chicken below!
Whip up 30-minute dinners using these tools
My most popular 30-minute dinner Recipes
This Instant Pot Chicken Pad Thai is a quick and easy one-pot dinner – the noodles cook alongside the other ingredients for minimal clean-up! Ingredients and
This Instant Pot Turmeric Lentil Soup is a vibrant vegan soup made with immunity-boosting turmeric that's ready in just 20 minutes. How to make this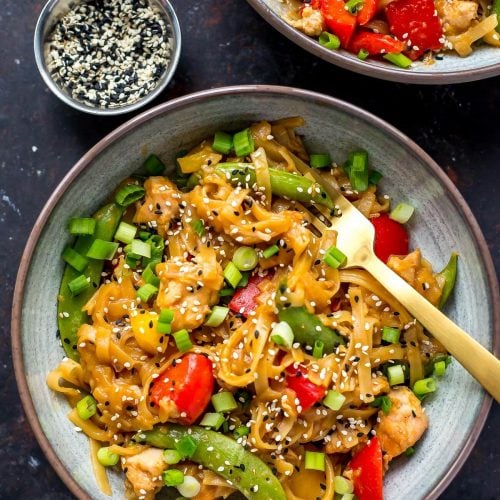 These Instant Pot Honey Sesame Chicken Noodle Bowls are ready in 20 minutes and will satisfy all your takeout cravings with way less calories. Ingredients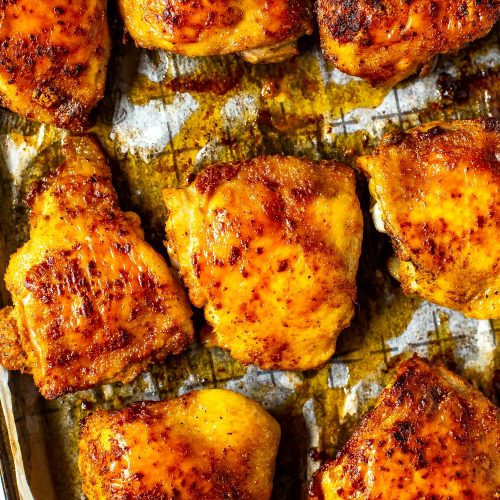 This recipe for the Perfect Baked Chicken Thighs shows you how to cook juicy chicken, whether you're using boneless or bone-in chicken thighs. Tips for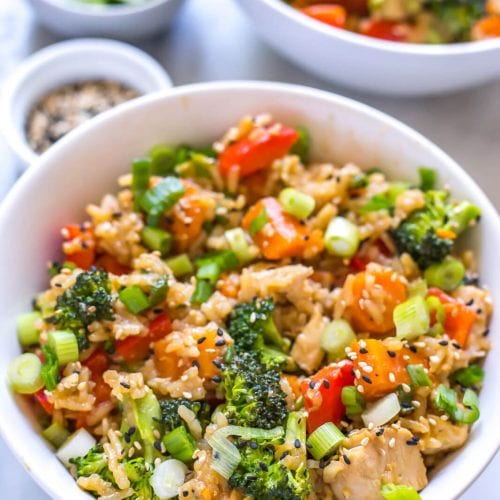 These Instant Pot Teriyaki Chicken Bowls with rice and broccoli are a great meal prep idea with the easiest five-ingredient stir fry sauce. Ingredients and
Instant Pot Cream of Mushroom Chicken is made healthier than the classic version of this dish – say hello to your childhood fave re-envisioned! Ingredients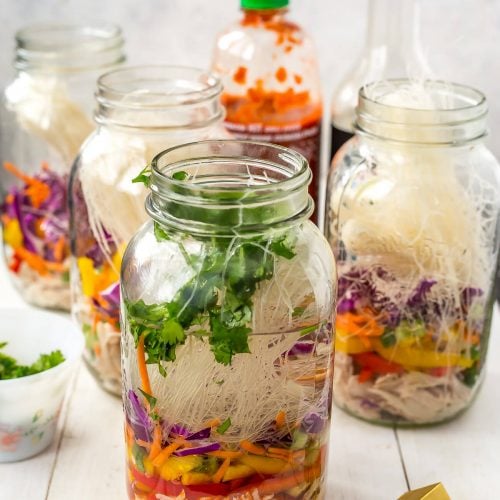 These Mason Jar Instant Noodles are the perfect work lunch. The jars are packed full of veggies, vermicelli noodles and shredded chicken! Ingredients and substitutions
These Philly Cheesesteak Stuffed Peppers are a delicious low carb spin on the famous sandwich and they are ready in just 30 minutes! Ingredients and
These 20-Minute Instant Pot Chicken Burrito Bowls are a quick dinner idea using mostly pantry staples – read on for a slow cooker option!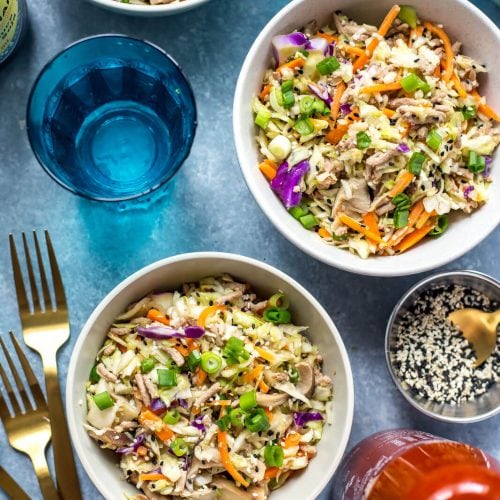 This Instant Pot Egg Roll in a Bowl is a delicious low-carb take on your favourite takeout dish with ground chicken and cabbage. Ingredients and
These Sheet Pan Greek Chicken Meal Prep Bowls are a low carb lunch idea with a lemon-oregano marinade, and they're ready in 30 minutes! Ingredients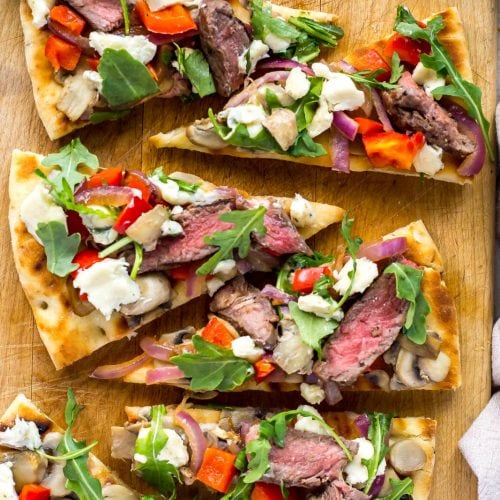 This Grilled Steak Gorgonzola Flatbread is a lighter dish made with gorgonzola cheese and fresh veggies that's ready in just 30 minutes! How to make