15 Healthy Spring Meal Prep Recipes
These 15 Healthy Spring Meal Prep Recipes will kick-start your path to better eating and healthy habits just in time for the warmer months!
This post is sponsored by The Ontario Dental Association. Thanks for supporting the brands that help keep my blog up and running!
Ahh, April. It's probably one of my favourite months because at this point, you can really count on spring. You finally have hope that warmer weather's on the way, and going outside and even doing activities after work seem much more feasible. I always start looking forward to life a little bit more once the flowers bloom and the trees blossom.
With the sunshine and warmer temperatures also comes a sense of renewal that you just don't get at New Year's because of the weather – a fresh start! I know personally I have a greater desire to start eating even better, considering all the fresh vegetables we have available at the market in the spring, and I also have more motivation to exercise and just partake in better self-care. The gloom and dark of winter are passing, and it's time to step outside feeling our best, with more confidence!
So, today I've brought you some delicious recipes that are absolutely perfect for your spring meal prep, and will save you a ton of time so you can get back to what's most important: looking and feeling your best!
Let me break it down for you how this whole meal prep thing works. These are recipes that are:
1. Dinners made in 30 minutes or less
2. Make-ahead meals
3. Quick and easy lunch bowls
4. Grab and go
5. Can be made in a slow cooker
Basically, living a healthy lifestyle in my book is all about what's EASY, and striving for balance.
Eating well and exercising certainly aren't the only kinds of self-care that are important though! Having a solid oral healthcare routine, for instance, is often overlooked when it comes to taking care of yourself. Like your body and diet, it's worth it to keep your teeth in tip-top shape!
I mean, you already probably spend tons of time and money on other kinds of self-care. Am I right about that? If you can prioritize the gym, cleaning your house, grocery shopping and meal prepping, why not take care of your teeth? A little money spent now will certainly save you a lot of time and money in the long run!
In fact, April is not just about spring and good food. It's also Oral Health Month – and regular trips to the dentist are key to healthy teeth, which just adds to your overall health and well-being! A healthy smile also helps you feel more confident! Now that we've got all of bases covered when it comes to healthy living, it's time to put a little bit of that into action with these fresh, healthy and delicious meal prep recipes!
These Soba Noodle Broth Bowls are a delicious, quick lunch option with tons of spring veggies!
Mason Jar Instant Noodles are the perfect grab and go lunch – just pour some hot water into each jar at work!
Who doesn't love BBQ Chipotle Chicken Bowls?
These Easy Summer Roll Bowls are a light, refreshing dinner option with tons of fresh herbs!
Shrimp Dynamite Sushi Bowls are faster and healthier than takeout!
These Open-Faced Steak Caprese Sandwiches are decadent without being too rich – and they come together in 20 minutes!
These Calamari Chow Mein Takeout Boxes will satisfy that urge for takeout!
This Roasted Red Pepper Chicken Cacciatore is made in a slow cooker so you can come home to a ready-made meal!
These Quinoa Lasagna Stuffed Peppers will supply you with lunch and dinner all week!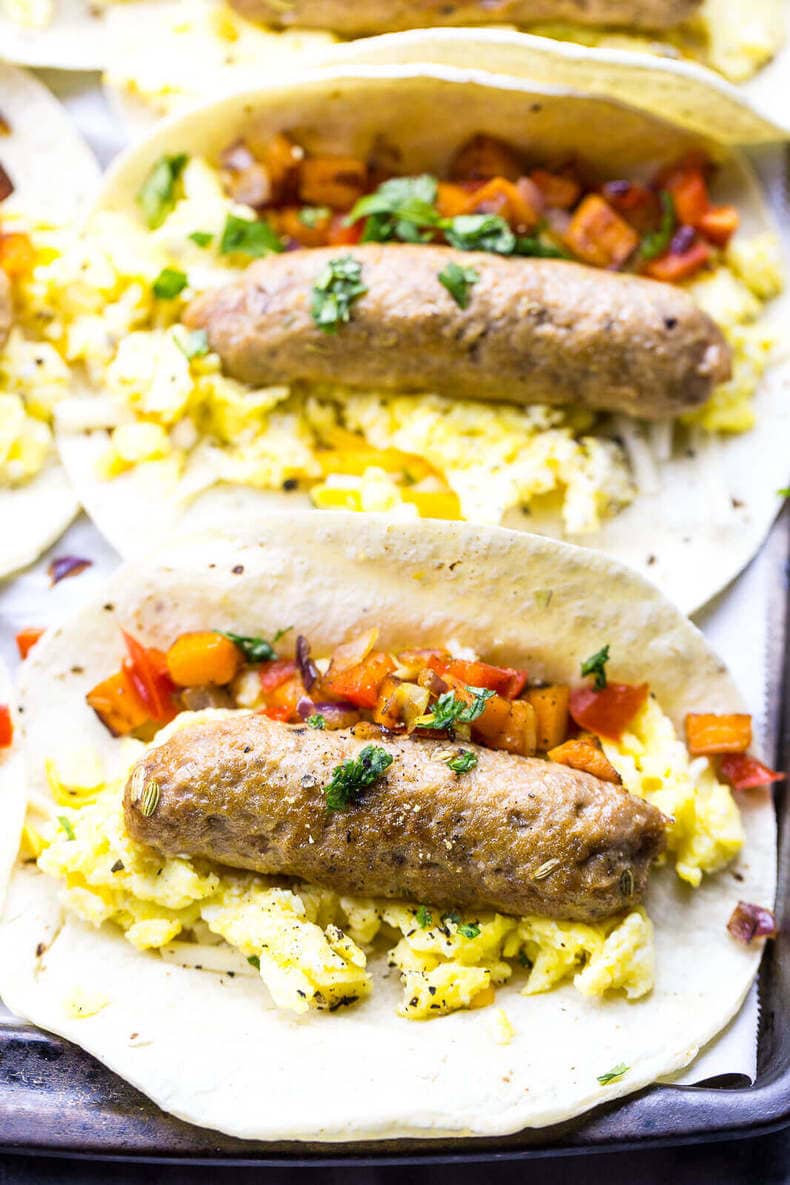 These Freezer-Friendly Meal Prep Breakfast Tacquitos are a cutlery-free, grab-and-go breakfast option!
This Chicken Pesto Spaghetti Squash is so low-maintenance, and freezer-friendly!
These Spicy Shrimp Stacks with Mango Salsa are a quick 15-minute dinner idea that will please everybody!
These Lemongrass Steak Noodle Bowls are going to quickly become your next lunch obsession!
This Chicken Bruschetta Linguine has all the flavours of summer – and it reheats wonderfully as leftovers!
This 30-Minute Tortellini Soup is ready in, well, 30 minutes. Make this your next lazy-day dinner!
Will you be trying any of these Healthy Spring Meal Prep Recipes? I promise they will make your life so much easier this season, so you can focus more on the important things: having fun, and taking care of yourself!